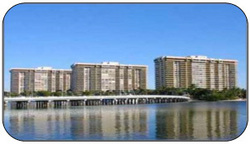 We've performed over 6,000 structural upgrades and retrofits since 1988
Miami, FL (PRWEB) September 29, 2009
Fibrwrap Construction, Inc., recently announced its successful completion of the Grove Isle Bridge facelift. Using Tyfo® Fibrwrap® advanced composite systems, engineers restored and strengthened the bridge that spans Biscayne Bay and connects Miami with Grove Isle's private island resort.
Grove Isle Bridge repairs were deemed necessary by inspection engineers when they discovered corrosive damage to the structure's reinforcing steel. "We've performed over 6,000 structural upgrades and retrofits since 1988," says Fibrwrap Construction CEO Heath Carr. "Using our innovative composite retrofits, it was our goal to restore the strength and integrity of the bridge while limiting interruptions to the flow of Grove Isle employee and tourist traffic."
Bridge rehab included the retrofit of proven, fiber reinforced polymers (FRPs) to the structure's columns, beams and slabs. In addition to Fibrwrap repairs, Fibrwrap Construction tackled concrete restoration and epoxy crack injection to further strengthen and stabilize the bridge.
Manufactured from glass, carbon, aramid and hybrid fabrics, Tyfo® Fibrwrap® are held together by TYFO® polymers. The company's advanced, high-strength fiber products are specially engineered to repair and restore bridges, buildings, piers and pipelines, offering cost-effective, turnkey repair options for many industrial projects.
Now that Grove Isle Bridge repairs are complete, the bridge's structural health will be monitored over the next year by students and researchers at the Universities of Miami and Cincinnati. To initiate this innovative new assessment program, wireless sensors were placed at strategic points along the rehabilitated bridge. By recording vibrations, acoustic wave data and concrete alkaline levels, researchers can detect the presence of cracks and deficiencies that may affect the bridge's future durability. Part of a new effort to better monitor U.S. bridge safety, this new emission technology would help bridge owners and transportation departments monitor and predict future structural problems, alerting them to the need for critical repairs and upgrades.
Fibrwrap Construction, Inc. is a high-tech, full-service structural restoration company. Focusing on the design and implementation of Carbon Fibrwrap® systems for demanding projects such as military installations, hospitals, transportation infrastructures, waste water sites, schools and large manufacturing facilities, the company is recognized as a worldwide leader in advanced composite systems. "When it comes to pipelines, bridges and buildings, replacement is generally not a cost-effective option," says Shaun Loeding, Southeast US Regional Manager for Fibrwrap Construction. "That's why our goal is to utilize our highly qualified field force to create turnkey, retrofit solutions that save our clients money--and lengthen the lifespan of costly, high-traffic structures."
For more information about Fibrwrap Construction's services, contact Mark Geraghty at 909-390-4363.
###