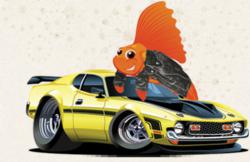 Looking at the habits of these high-achieving consumers with great scores hopefully will make others realize that, hey, you can have one late payment and not be SOL.
Los Angeles, CA (PRWEB) October 23, 2012
RoadFish.com men's lifestyle and finance magazine today released their statement regarding FICO's findings about the common trends among consumers whose credit scores are higher than 785. Scores this high are among the highest in the country, and FICO found several similarities across the board in the habits of these consumers. RoadFish.com's take on this may help American consumers by highlighting some habits of high score holders that others can mimic by adjusting their credit practices.
Inman News recently reported that only a quarter of all people who possess credit scores possess a score above 785, which is considered having excellent credit. The newspaper stated that the Fair Isaac Corp. (FICO), the creator of the FICO Score, revealed some of the behaviors behind those consumers with the stellar scores, and some of those habits may come as a surprise. For instance, the Inman News article reports that the 50 million people who have a credit score above 785 are considered high achievers and share habits such as keeping low revolving balances, making timely payments, and possessing an average of seven credit cards (which includes accounts that are both open and closed.) Further, these consumers tend to carry balances on an average of four credit cards/loans.
RoadFish.com is happy to see these findings being displayed so that Americans can better understand the credit etiquette that it takes to maintain a good score. RoadFish.com's Senior staff writer is quoted as saying, "I think that there tends to be something of a misunderstanding about credit card use. Consumers seem to believe that avoiding credit card use can magically repair a score when the exact opposite is true. The fact is that the people with the top scores are not debt-free, and do not avoid using credit cards, but rather they have good practices when they do use their cards."
FICO's official press release reported that a third of "high achievers," or consumers whose credit score is above 785, carry balances over $8,500 (not including mortgage accounts.) Less than 1% of high achievers have an account that is past due, and 96% of these consumers have zero missed payments on their credit report. In addition, a fact that some might find surprising is that one out of every hundred high achievers has dealt with collections agencies which shows on their credit report, and another one in every 9,000 has come up against a bankruptcy.
RoadFish.com encourages its readers to diligently work on their score, because becoming a high achiever is a reachable goal. RoadFish.com's Senior staff writer is quoted as saying, "Earning a stellar credit score does take work, but it's not as out of reach as some people may think. Looking at the habits of these high-achieving consumers with great scores hopefully will make others realize that, hey, you can have one late payment and not be SOL. Or it is possible to recover from a bankruptcy or collections, and go on to have an excellent score. It takes an understanding of how credit scores work, and then the willingness to put in the time and effort to make sure you're on track."
In FICO's press release it reveals that many individuals with the highest credit scores in the nation rarely open new accounts, and on average their oldest account is 25 years old. These individuals are careful and selective about entering into new lines of credit, and they manage their existing debt in a responsible manner. Anthony Sprauve, a credit score advisor for myFICO, is quoted as saying, "Higher credit scores can be the key to achieving some of life's most important dreams: buying a new car, owning a home, putting a child through college, or taking a dream vacation. The good news is that by understanding and consistently practicing behaviors that can lead to high credit scores, anyone can become a FICO High Achiever."
About RoadFish.com
RoadFish.com lifestyle and finance magazine is a well-liked online men's magazine that features articles about travel, women, mens dating advice, and men's luxury items. RoadFish.com is aimed at guys in their 30's and 40's who share the similarity of already having achieved a life goal, and are striving towards a new goal for themselves. RoadFish.com lifestyle and finance magazine features stories on trendy clothing and designer watches, vacation ideas, hot chicks, and financial articles about credit awareness and education. RoadFish.com is owned and operated by Purpose Inc.