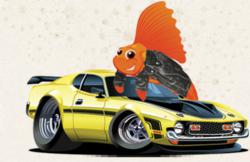 [U]se it to your advantage. Make sure you're doing the right things, in all of your financial arenas.
New York, NY (PRWEB) July 14, 2012
RoadFish.com men's lifestyle and finance magazine today encouraged its readers who are considering taking out a mortgage to read up on FICO's new mortgage credit score and actively work to ensure that their financial ducks are in a row. FICO recently unveiled the new credit scoring system, which will be used to determine the eligibility of home-loan applicants and is said to include an incredibly broad array of financial information about consumers.
Kelly Dilworth of Fox Business reported that FICO rolled out its new mortgage credit score this past week, with the intention of helping to make loan-applicants more eligible to take out a mortgage. FICO merged with data firm CoreLogic to create the new score, which is being officially called the FICO Mortgage Score Powered by CoreLogic. It is designed so that CoreLogic provide the consumer information in a document named the CoreScore credit report, then FICO will tally up the actual mortgage credit score using the CoreScore report data. The credit score system will reportedly take into consideration consumer behavior that is not being included in the "normal" credit scores through Experian, TransUnion, and Equifax. Dilworth states that payments such as rent, child support, and second mortgages will show up on the new mortgage credit score. FICO made it clear that the new credit score is not meant to act as a substitute for the conventional FICO scores.
RoadFish.com's initial reaction to the new FICO credit score is largely positive. Says RoadFish.com's Senior staff writer, "It's changing the ballgame quite a bit. In the past, folks who were younger and didn't have a line of credit established, say someone in college or just out of school, or even older consumers who don't own a credit card and aren't paying any loans had little to no credit history. And having no credit history is in some ways just as bad as having a bad credit score, because there's simply not enough data for banks to decide one way or another if you are a responsible borrower. But with this new mortgage credit score, all that is changing—at least for people who are looking to take out loans to buy a house. My hope is that this idea will spread, so that people in this boat—who haven't been reckless with money, they just don't have a credit history among their personal finances—will be able to take out things like car loans and student loans without having to work for a couple years to build a history. It sometimes seems like a Catch 22. I appreciate that this new scoring system takes away a bit of that unfairness."
The Fox Business article reported that this new scoring system will cast a much wider net for capturing consumer information than the traditional credit score. Mark Munzenburger, who is the director of education at GreenPath Debt Solutions, a credit counseling agency, is quoted as saying, "The level of detail is unbelievable. Consumers really need to be aware that, more than ever, everything they do with respect to their finances is somehow tracked and kept in a database."
RoadFish.com urged its readers to use this new scoring tool to their advantage. RoadFish.com's Senior staff writer is quoted as saying, "The way I see it, this system could either work for or against somebody, there's no making blanket statements that it will be better or worse for everybody. If you're consistently late with your mortgage payments, or skipped a few months in child support, then it's not going to work in your favor. But if you are diligently paying rent, even if you don't have a credit card or huge line of credit, then it sounds as though this could work out pretty well for you. It's almost like FICO is shining a light deeper into each person's financial life, and those who have been modestly keeping up with payments will be rewarded, whereas in the past they might not. So use it to your advantage. Make sure you're doing the right things, in all of your financial arenas."
There are, as with any new system, criticisms that have arisen. The above-mentioned article states that critics argue that the wider net could be gathering inaccuracies for consumers, while at the same time creating privacy concerns. One of the examples listed in Dilworth's article is that renters who choose to withhold their rent payment for a rightful, law-abiding reason will still have the lack of payment appear on the new FICO credit score all the same, despite the just cause of their doing so. In other words, the credit score will hold no bias and see all lack of payments as equal, although some might be quite justified.
Jason Shneider, the CoreLogic spokesman, assured critics that consumers are able to dispute items by contacting CoreLogic directly, stating, "At CoreLogic, we take data accuracy and consumer advocacy very seriously. We will diligently uphold all of the consumer protection and fair credit reporting regulations to protect consumer interests."
About RoadFish.com
RoadFish.com is a popular online men's lifestyle and finance magazine, whose readers includes men in their 30's and 40's that have already achieved success in life and are striving towards a larger goal. RoadFish.com men's lifestyle and finance magazine covers such ground as current events, luxury items, exciting adventures that would be of interest to this group, hot chicks, and tips to improve one's personal finances as well as ways to make more and save more money. It is owned and operated by Purpose Inc.