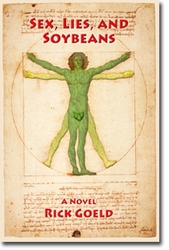 We all know how this turned out in the book and movie
Scottsdale, AZ (Vocus) November 9, 2010
Fiction author Rick Goeld has noted a striking similarity between assurances in a recent New York Times article and Michael Crichton's Jurassic Park.
In late September, the Veterinary Medicine Advisory Committee met to advise the Food and Drug Administration regarding the safety of genetically engineered salmon developed by AquaBounty Technologies. According to an article in The New York Times (Panel Leans in Favor Of Engineered Salmon, by Andrew Pollack, September 21, 2010), 'members … seemed to conclude that genetically engineered super-salmon would be safe to eat and for the environment, but they also found gaps in the studies used to support the conclusion.'
"Since I had just published Sex, Lies, and Soybeans, a book that deals with the potential dangers of genetically engineered foods, this story got my attention, but what really caught my eye was a specific paragraph," stated fiction author Rick Goeld.
That specific paragraph reads as follows:
"The company said the fish would not escape because they are grown inland in facilities with containment mechanisms. If any did escape, it said, the rivers outside the Canadian and Panama facilities would be too salty or warm for the fish to survive. And the fish would all be female and almost all would be sterile, so they would not interbreed with wild salmon."
This paragraph resonated with Rick, and he found himself thumbing through an old copy of Jurassic Park, a book written in 1990 by Michael Crichton. Here's what he found (as quoted from the book):
'None of our animals are capable of breeding. That's why we have this nursery. It's the only way to replace stock in Jurassic Park.'
'Why can't the animals breed?'
'Well, as you can imagine, it's important that they not be able to breed," Wu said. 'And whenever we faced a critical matter such as this, we designed redundant systems. That is, we always arranged at least two control procedures. In this case, there are two independent reasons why the animals can't breed. First of all, they're sterile, because we irradiate them with X rays.'
'And the second reason?'
'All the animals in Jurassic Park are female,' Wu said, with a pleased smile.
Malcolm said, 'I should like some clarification about this. Because it seems to me that irradiation is fraught with uncertainty. The radiation dose may be wrong, or aimed at the wrong anatomical area of the animal—'
'All true," Wu said. 'But we're quite confident we have destroyed gonadal tissue.'
'And as for them all being female," Malcolm said, 'is that checked? Does anyone go out and, ah, lift up the dinosaurs' skirts to have a look? I mean, how does one determine the sex of a dinosaur, anyway?'
'Sex organs vary with the species. It's easy to tell on some, subtle on others. But, to answer your question, the reason we know all the animals are female is that we literally make them that way: we control their chromosomes, and we control the intra-egg developmental environment. From a bioengineering standpoint, females are easier to breed. You probably know that all vertebrate embryos are inherently female. We all start life as females. It takes some kind of added effect—such as a hormone at the right moment during development—to transform the growing embryo into a male. But, left to its own devices, the embryo will naturally become female. So our animals are all female. We tend to refer to some of them as male—such as the Tyrannosaurus rex; we all call it a 'him'—but in fact, they're all female. And, believe me, they can't breed.'
"We all know how this turned out in the book and movie," stated Goeld. "I don't pretend to be an expert on genetically engineered foods, but I think many people have legitimate concerns on this subject."
The primary argument "against" is that genetically engineered crops, whether they be grains, legumes, or fish, have a nasty tendency to "encroach" into natural populations of the same species. This happens through largely uncontrollable processes such as airborne, waterborne, and insect-borne seed migration. And once this encroachment occurs, the stronger genetically engineered crop eventually crowds out the natural crop.
The primary argument "for" genetically engineered food is based on the assumption that people demand a wide variety of foods, available year-round, at low prices. They want it all, they want it now, and they want it cheap! Sound familiar? The food industry contends that the only way to satisfy this demand, and feed hundreds of millions of people (billions worldwide), is through genetic engineering, large-scale industrial farming, and the use of millions of gallons of oil for transportation. This leads to a broader question: In order to (a) Eat Healthier, and (b) Save the Planet, are people willing to live with seasonal access to a much narrower variety of foods, and perhaps pay somewhat more?
"I have two concerns about the development of Jurassic Salmon," Goeld said. "First, history tells us that assurances from the food industry that "nothing bad will happen" cannot be trusted. Jurassic Park is fiction, but common sense suggests we should move much more slowly in developing and proliferating genetically engineered species. Second, we do not yet understand the long-term effects of large-scale human consumption of genetically engineered foods. This is another good reason to move much more slowly, and do very thorough studies, before it's too late."
About Rick Goeld
Rick Goeld earned engineering degrees at the Massachusetts Institute of Technology and Northeastern University, and was formerly an executive in the field of high-tech electronics. His recent novel, Sex, Lies and Soybeans, has timely messages about the dangers of genetically engineered foods, the abuses of big business, and the limitations of government control. For more information, visit http://www.SexLiesandSoybeans.com.
###