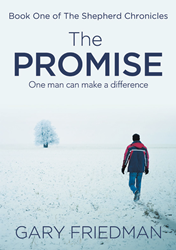 "Gary Friedman's 'The Promise' is the first in a trilogy that follows David on his journey to fulfill his promise," a reviewer said. "This was a very inspirational book."
BUFFALO, N.Y. (PRWEB) January 07, 2019
"The Promise" by Gary Friedman follows protagonist, David Hynes, after a failed attempt at musical fame in Nashville lands him back in his hometown of Buffalo, NY where the family and friends he blocked out to find fame still live. A near fatal car crash lands David in the hospital where he makes a promise to God that he will redeem himself and follow a better path. His promise leads him down a path which takes him to Georgia and back, altering many lives along the way, including his own.
A story of overcoming, "The Promise" demonstrates the value of getting back up when you've been knocked down, and how the quality of life is determined not by things but by people and how you positively impact them. Friedman wrote this story to help readers consider how their lives may be if they kept every promise and took every opportunity.
"We all face crossroads every day, but what turns a crossroad into a dead-end is the failure to act," the author said.
"Gary Friedman's 'The Promise' is the first in a trilogy that follows David on his journey to fulfill his promise," a reviewer said. "This was a very inspirational book."
"The Promise"
By Gary Friedman
ISBN: 9781483447391 (softcover); 9781483447384 (electronic)
Available at the Lulu Online Bookstore, Amazon, and Barnes & Noble
About the author
Gary Friedman is a life-long resident of Western New York. A single father of four kids that have also remained close by, he has had three separate and distinct careers, spending 17 years owning and operating a retail business, 8 years as a school and mental health counselor and the last 22 years working for the federal government in law enforcement. Overlapping those careers, he spent 11 years as a Division I women's soccer coach at Canisius College. The common connection with all three careers and coaching is working closely with people in all walks of life, trying to make a difference in those around him. For more information visit http://www.garyfriedmanbooks.com.