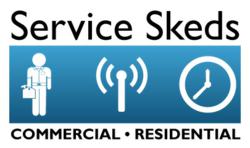 Being able to discern important information and put that information into effective use in the field is one of the greatest challenges a company can face
Fort Worth, TX (PRWEB) September 03, 2012
Service Skeds, the technology leader in smartphone and cloud-based field service management software, knows the benefits of having an easily accessible equipment history. With all of the equipment's information at your fingertips, our customers are able to efficiently service equipment in a way that gives them a steep advantage over their competition. Technicians have access to all equipment's history in the field. This means, for them, there is less time spent training and more time working, less time diagnosing problems and more time fixing them, and less time preparing for a job and more time working on the job.
Stephen Chambers, Skeds President said "This is a great feature of ours that really gives our customers a great potential for efficiency. Being able to discern important information and put that information into effective use in the field is one of the greatest challenges a company can face, and here at Service Skeds we are doing all we can to make that process simple."
Not only does having easy access to equipment history enable more efficient work, but holds your technicians accountable. Equipment history can keep track of past work done as well as the specific location of the equipment and the areas the equipment services. The equipment history function helps technicians solve the problems efficiently since they have access to a record of the work done on the unit in the past. This allows the technicians to try something new instead of trying to fix the problem in a way that has not worked in the past. Having your information all in a single, secure location keeps your information safe and reliable.
Paul Vishnesky, Leader in Service Skeds Sales said, "Our customers are incredibly satisfied with our ability to organize the day to day business functions and keep track of their business history. We make it seem so easy to run the business routine and try to make it as efficient as possible. We know that we are the best field service management software out on the market at this time."
About Service Skeds: Service Skeds is field service management software designed to make service companies more efficient and profitable using cutting edge technology and innovation. Service Skeds began with the HVAC industry and offers tailor-made solutions to HVAC customers, but now also can offer a full mobile software solution to any service company with technicians in the field, including electricians, plumbers, and pest control companies. The Service Skeds cloud based online portal allows the dispatcher to keep detailed information on all of their customers, technicians and their equipment, so the status of every job is evident on one screen. Service Skeds is also made to work seamlessly with smartphones, both iPhone and Android, and their tablet counterparts. Service Skeds was founded in 2008 in Fort Worth, Texas and enjoys management with over 20 years of experience in the service and dispatch industries.