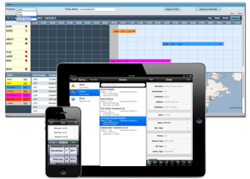 Our business has grown a great deal in 2012, and our staff is growing accordingly.

- Harvey Shovers
MSI Data President
Milwaukee, WI (PRWEB) December 04, 2012
MSI Data, a leading provider of field workforce automation software, today announced that it has signed a lease for additional office space at its Mequon, Wisconsin headquarters. The office space expansion accommodates recently hired employees and up to a 50% increase in new staff, primarily software developers the company is actively recruiting, as well as additional professional and technical staff.
"Our business has grown a great deal in 2012, and our staff is growing accordingly," said Harvey Shovers, President of MSI Data. "We needed to expand our office space to make room for growth in our software development, sales and implementation departments."
MSI Data, whose enterprise mobile field service and service management software is used by manufacturers, distributors, cable operators, government agencies, contractors and other organizations with a field workforce, is recruiting software developers to design, develop and implement mobile and .NET web applications.
New hires will join a team of software developers, challenged with new product creation to supporting customers for the MSI suite of enterprise, scheduling, and mobile software products. MSI Data is helping field workforces replace spreadsheets and paper forms used for inspection and field service tasks, by focusing on the development of software applications that are easy-to-acquire, easy-to-deploy, and deliver a rapid return on investment.
MSI Data's Field Force Studio offers large field service organizations a unique, integrated mobile and field management productivity software alternative, removing risk and cost from the process of deploying mobile field service solutions through the combination of off-the-shelf mobile workforce apps and a menu of advanced web, management and integration technologies:

MSI Cross-Platform Mobile Workforce Applications - Mobile applications that improve field service and inspection productivity for iPad®, iPhone®, Android® or Windows® mobile devices.
MSI Field Management Applications - Mobile-integrated home office software for Service Management, Inspection Management, Scheduling, Routing and Automated Vehicle Location.
MSI Enterprise Connector - Tools for connecting MSI mobile applications with customer ERP, CRM and billing systems.
Across industries ranging from manufacturing and construction to cable and government, the MSI Data's mobile workforce software improves management of the entire field service operation, from paperless work orders or inspections for technicians to streamlined service scheduling and advanced asset management. Whether connected to MSI Field Management Applications or used in combination with other home office systems, mobile workforce software from MSI Data dramatically increases field workforce efficiency as well as management visibility of field operations.
About MSI Data
MSI Data develops enterprise, scheduling and mobile software that helps companies improve the productivity of their field workforce. World class service organizations such as Time Warner, Bradley Corporation, Tax-Air and Heartland Computers rely on MSI Data's powerful suite of field workforce software to automate field service, inspections, site surveys, audits, reporting and other critical field-driven business processes. MSI Data replaces paper and disconnected spreadsheet-based business processes with highly efficient, end-to-end processes through the combination of mobile technology for field workers and ERP, CRM and accounting systems integration. Whether deployed in the cloud or on-premise, MSI field workforce software applications are easy to acquire, easy to deploy and deliver enterprises with rapid return on investment. To learn more, please visit http://www.msidata.com.
iPad® and iPhone® are registered trademarks of Apple. Android® is a registered trademark of Google. Windows® is a registered trademark of Microsoft.