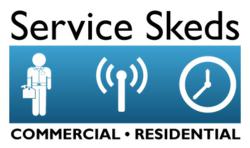 We spend a lot of time speaking to our customers ... And we make it our priority to build the features that they need, day-to-day.
Fort Worth, TX (PRWEB) July 21, 2012
Service Skeds, the technology leader in smartphone and cloud-based field service management software, has announced a series of new features and upgrades designed to fully equip the technician in the field with accurate information and support dispatch and accounting in the back office.
One of these new features is a fully functional time clock. Now technicians can keep track of their hours worked directly from the Service Skeds mobile apps on both Android smartphones and iPhones as well as Android tablets and the iPad.
"We spend a lot of time speaking to our customers," Stephen Chambers, Service Skeds president, said. "And we make it our priority to build the features that they need, day-to-day. All of the features we add to our service help our customers become more efficient and make more money. Our software has grown by leaps and bounds this way – simply by listening to what people need."
According to Chambers, the screen on the mobile app is very easy to use and displays the times clocked in for today, this week and last week to the user. Designed to look like an old-style alarm clock where the digits flipped over each minute, it is incredibly intuitive. "Technicians can see the hours they have worked. There is no need for confusion at the end of the work week. Bookkeeping can pull a report and quickly verify times worked."
"We have a great many customers that do both service work as well as equipment installations. Our customers doing installations run larger crews who may not all own smartphones or tablet devices. Users of the Service Skeds mobile app now have the ability for a supervisor to clock in and out his entire crew. He simply selects them from a larger list of technicians, clocks them in and they become his 'crew' for the day. There is no need for time-wasting set up from the office."
If the technician forgets to clock in or clock out, dispatch can update or change a time from the Service Skeds website. "One of our guidelines is that anything that the technician can do in the field, the home office can change or override as needed. Technicians are supposed to be busy and we try our level best to make sure that our mobile apps are clear, quick and concise. We take it as a compliment that our mobile apps are most often compared to something like Facebook with its ease-of-use."
The newly released time clock feature is only one of many features included in the Service Skeds field service management software platform. Service Skeds also provides features that help streamline dispatch by increasing the ease of communication between technicians in the field and dispatch. Technicians can sell and manage service contracts, invoice, and take payments at the customer site with a smartphone or tablet, Other features aid in customer retention and maximizing revenue from an existing customer base.
About Service Skeds: Service Skeds is field service management software designed to make service companies more efficient and profitable using cutting edge technology and innovation. Service Skeds began with the HVAC industry and offers tailor-made solutions to HVAC customers, but now also can offer a full mobile software solution to any service company with technicians in the field, including electricians, plumbers, and pest control companies. The Service Skeds cloud based online portal allows the dispatcher to keep detailed information on all of their customers, technicians and their equipment, so the status of every job is evident on one screen. Service Skeds is also made to work seamlessly with smartphones, both iPhone and Android, and their tablet counterparts. Service Skeds was founded in 2008 in Fort Worth, Texas and enjoys management with over 20 years of experience in the service and dispatch industries.