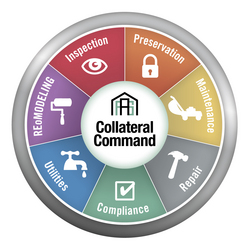 "Collateral Command was created to provide a single source from which banks and servicers can access the most important services needed to maintain a foreclosed or REO property." Dale McPherson, President and CEO, Field Asset Services
Austin, TX (PRWEB) September 8, 2010
Field Asset Services (FAS), the nation's leading provider of field services to the REO industry, today announced the availability of Collateral Command, an integrated solution for property management services and support. Collateral Command offers lenders and servicers, for the first time, a single source for the full spectrum of services required to manage their growing inventory of foreclosed and REO properties. In conjunction with the release of Collateral Command, FAS is also announcing today the availability of their new Utilities Management Service offered as part of the Collateral Command suite.
"Servicers are faced with numerous challenges as they try to manage the abundance of REO properties or 'collateral' under their control," said Dale McPherson, President and Chief Executive Officer of Field Asset Services. "Collateral Command was created to simplify this daunting task by providing a single source from which to access the most important services needed to maintain a foreclosed or REO property. In addition, by integrating the use of advanced technology and support from FAS's experienced staff, we are able to continue our tradition of delivering these high quality services at a fair, flat rate."
With the number of foreclosed and REO properties growing daily, banks' and servicers' need for multiple vendors offering a range of services has increased along with the probability of mistakes or fraud occurring in the field. Collateral Command eliminates the risk of having an array of vendors performing separate servicing activities in an uncoordinated manner by providing a single, integrated solution with centralized coordination and management through FAS's work flow management system, FASConnect. This approach allows banks and servicers to securely offload the day-to-day tasks associated with REO property management and focus on growing their core business.
"There are numerous unoccupied properties in the market today," according to David Friedman, Chief Executive Officer of American Home Mortgage Servicing in Irving, TX. "Given the sheer volume, the competition to market and sell these properties is at an all time high. Property preservation services, offered as an integrated solution, can make the difference and potentially remove the stigma associated with an REO and reduce the days on market for the property."
Delivering the Right Services, the Right Way
Collateral Command offers a comprehensive and high-quality suite of services to manage, and control, all aspects of servicing REO portfolios including:

Preservation - re-keying, lock-out, board-up, trash-out, winterizing and other appropriate preservation services as required by the bank or servicer.
Maintenance - lawn and yard, janitorial, winterization, pool maintenance, HOA and code compliance.
Utilities - relationship management with the utility provider, billing consolidation, flat-rate billing, and agent and attorney reimbursements.
Compliance - health and safety measures, security services, lawn and landscaping overviews, habitability reviews, building code assurance, and vacant property registration.
REoMODELING - project assessment and analysis, general project management, and project visibility with detailed reporting.
Repair - appliance replacement and installation, mechanical and HVAC, plumbing, electrical, structural work, interior and exterior cosmetic improvements, landscaping, exterior lighting and outbuilding repairs.
Collateral Command's suite of integrated services is available today. For more information, please visit http://fieldassets.com/collateral-command.
About Field Asset Services
Field Asset Services (FAS) is the premier Property Preservation, REO Maintenance and Repair Services company in the United States, servicing more than $7.1 billion in residential assets on behalf of our clients. FAS works with 25 mortgage and asset management clients nationwide, servicing more than 94,000 active properties on a recurring basis. For more information about FAS, please visit http://www.fieldassets.com.
About FirstService Corporation
FirstService Corporation (NASDAQ: FSRV; TSX: FSV and FSV.PR.U) is a global diversified leader in the rapidly growing real estate services sector, providing services in commercial real estate, residential property management and property services. Industry-leading service platforms include Colliers International, the third largest global player in commercial real estate services; FirstService Residential Management, the largest manager of residential communities in North America; and TFC, North America's largest provider of property services through franchise and contractor networks.
FirstService generates over US$1.8 billion in annualized revenues and has more than 18,000 employees worldwide. More information about FirstService is available at http://www.firstservice.com
###