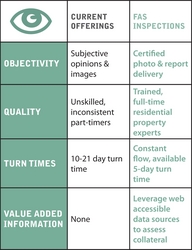 "FAS fine-tuned the sometimes subjective and uncertain process of inspections to provide banks, servicers and lenders a fool-proof service enabling an even higher level of quality control resulting in quicker turn times." Dale McPherson, President, FAS
Austin, TX (PRWEB) February 22, 2011
Field Asset Services (FAS), the nation's leading provider of field services to the REO industry, today announced the availability of the Company's new Inspections Services. By combining the expertise of trained inspectors, the control of a centrally managed process, and the proof of performance enabled through leading edge technology, FAS is delivering unique and highly qualified Inspections Services. In addition, with the announcement of this new offering, FAS further expands the services available through Collateral Command™, the Company's single source solution for all services required to manage foreclosed and REO properties.
"The ability to maintain high levels of quality in light of the volume of REO and foreclosed properties has presented some unique challenges for the industry," said Dale McPherson, President of Field Asset Services. "FAS fine-tuned the sometimes subjective and uncertain process of inspections to provide banks, servicers and lenders a fool-proof service enabling an even higher level of quality control resulting in quicker turn times. This excellence in service will speed up foreclosure and REO sales, and by eliminating subjectivity, it will empower servicers with more accurate results around the occupancy and condition determinations."
REO Inspections Revolutionized with Qualified Experts and Tamper-Proof Technology
Offered as part of FAS' Collateral Command, the Inspections Services provide banks with a single point of contact to manage every aspect of the inspections process. With a national network of more than 6,000 qualified, full-time inspectors trained and experienced in property collateral and foreclosures, FAS' Inspections Services offer banks:

Occupancy, pre-sale, compliance, or specialty inspections.
The ability to conduct inspections immediately and/or ongoing, as needed.
The option to bundle the inspections service with the entire continuum of FAS services.
Online delivery, reporting, and status of inspections completed in the field.
While a large number of banks' inspections are needed to confirm homeowner occupancy, many are also needed to identify potential repairs and to verify the completion of work. To eliminate the subjectivity and resulting uncertainty that can occur in the inspections process, FAS introduced in 2010 the industry's first "certified service record" technology called FASconnect™. With this technology, FAS can authenticate photos taken at the property through time, date and GPS capabilities removing all uncertainty and doubt about when and where the photo was taken.
"By leveraging proprietary and revolutionary technology to deliver an unalterable digital record of the time, date and GPS coordinates of the photo, FAS can certify the reliability of the inspection. This is truly unique to the field services industry," added McPherson.
FAS will be exhibiting its array of Property Preservation Services at the 2011 MBA National Mortgage Servicing Conference & Expo taking place February 22nd – 25th at the Gaylord Texan Hotel and Convention Center in Dallas, TX. You can visit FAS in booth #308 or to access more information online, visit http://www.fieldassets.com.
About Field Asset Services
Field Asset Services (FAS) is the premier Property Preservation, REO Maintenance and Repair Services company in the United States, servicing more than $7.3 billion in residential assets on behalf of its clients. FAS works with 26 mortgage and asset management clients nationwide, servicing more than 120,000 active properties on a recurring basis. For more information about FAS, please visit http://www.fieldassets.com.
About FirstService Corporation
FirstService Corporation (NASDAQ: FSRV; TSX: FSV and FSV.PR.U) is a global diversified leader in the rapidly growing real estate services sector, providing services in commercial real estate, residential property management and property services. Industry-leading service platforms include Colliers International, the third largest global player in commercial real estate services; FirstService Residential Management, the largest manager of residential communities in North America; and TFC, North America's largest provider of property services through franchise and contractor networks.
FirstService generates over US$1.8 billion in annualized revenues and has more than 18,000 employees worldwide. More information about FirstService is available at http://www.firstservice.com.
###