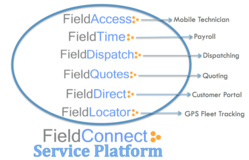 In the three months we've been using FieldAccess, we have a happier service staff, 100% accurate electronic service tickets, and very impressed customers.
Irvine, CA (PRWEB) May 03, 2012
Diagnostic Imaging Supplies & Services (DISS), a Puerto Rico-based leader in digital solutions, radiology, cardiology, mammography, and other medical equipment solutions, has implemented FieldConnect's FieldAccess™ mobile technician software to replace paper-based work orders for its field services team.
FieldAccess technician software allows for seamless integration with DISS's existing Microsoft Dynamics GP ERP system, as well as remote access to repair site history, equipment specifications, pictures, and diagrams. As a result, calls can be created in the Microsoft Dynamics GP environment and routed immediately to the field, providing accelerated service, eliminating manual data entry errors, and allowing DISS to race out invoices the same day.
"We challenged FieldConnect to implement our mobile solution in a very short period of time and they met and exceeded that challenge. FieldConnect's implementation staff worked closely with our Digital Solutions Engineer, Yamill Garcia, to have us up and running in less than a month," says DISS executive Ruben Garcia Jr. "In the three months we've been using FieldAccess, we have a happier service staff, 100% accurate electronic service tickets, and very impressed customers."
Rapid implementation of the FieldAccess software was achieved through FieldConnect's FieldPledge™ mobile services implementation process. For more than a decade, FieldPledge has been the company's proprietary implementation toolkit, ensuring that its many thousands of users are adopting and executing the technology in the field. This set of best practices allows the organization to immediately realize value from the FieldConnect Service Platform – which also includes FieldDirect™, FieldLocator™, FieldDispatch™, FieldTime™, and FieldQuotes™ – with unequaled simplicity and effectiveness.
FieldConnect's Field Service Platform is a comprehensive mobile solution that empowers customers and boosts efficiency in a client's field services, billing, and payroll departments by extending the functionality of Microsoft Dynamics AX, GP, and SL, as well as Sage Timberline, ERP systems.
For more information, please visit http://www.fieldconnect.com.
About FieldConnect
FieldConnect maximizes customer satisfaction and profit per field technician by managing real-time service call information to all service stakeholders: customers, technicians and dispatchers. Our suite of software applications extends the functionality of the Sage Timberline and Microsoft Dynamics field service solutions. FieldConnect is a privately held Microsoft Certified Partner and Sage Development Partner based in Irvine, California and has been deploying field service solutions since 2002. http://www.fieldconnect.com
About Diagnostic Imaging Supplies & Services
DISS, Inc. provides a high level of service in radiology, mammography, ultrasound and urology equipment and supplies. With our combined 50 years of experience and proven track record we can confidently say that we are the leaders in the industry.