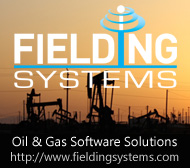 Fielding Systems offers a true digital oilfield.
Tampa, FL (PRWEB) November 01, 2012
Fielding Systems brings together Oil & Gas field data capture with remote SCADA monitoring to provide one comprehensive solution for Oil & Gas customers. By combining their two hosted solutions, FieldVisor and ScadaVisor, customers can consolidate their data capture initiatives without the need for any additional IT infrastructure investment.
Fielding Systems aims to empower Oil & Gas customers to address issues beyond simple production monitoring so they can facilitate such things as enhanced oil recovery (EOR), regulatory compliance and water management.
Previously, hosted providers have focused primarily on field data capture or SCADA monitoring but noth both. Fielding Systems' customers can now coordinate and track well services, treatment and pumper logs through an offline capable, native Android app on the same platform that they manage monitored SCADA data. Producers can analyze services and treatments against production without the need to integrate disparate third party software systems that don't speak the same language.
"Clients should not be required to capture service, treatment and run tickets manually or through incompatible systems. They should be provided one platform that allows them to do all field data capture regardless if it is automated via SCADA devices or manually entered through field personnel and pumpers. Fielding Systems offers a true digital oilfield." stated Dave McCarty, Senior VP of Sales for Fielding Systems.
About Fielding Systems
Fielding Systems provides cutting-edge web and cloud based Oil & Gas software solutions for midstream and upstream companies of all sizes. The company's software helps producers gain a competitive advantage by optimizing well production, improving well safety and reducing costly downtime. Fielding Systems also offers ScadaVisor, a powerful remote SCADA monitoring and field automation solution for Oil & Gas. For more information or a demo of the software, visit http://www.fieldingsystems.com or call 877.987.4823.
#########
All product and company names herein may be trademarks of their registered owners.
For more information, contact:
Fielding Systems, LLC
877-987-4823
info(at)fieldingsystems(dot)com