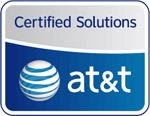 St. Paul, MN (PRWEB) May 16, 2012
HindSite Software recently became a Certified Solution for AT&T. The field service software company wanted to be able to help more businesses in the field service industry. With HindSite providing a paperless solution, they help companies gain better control and make managing the business easier.
HindSite is constantly searching for new ways to reach out to potential customers. As an AT&T Certified Solution, HindSite now has easy access to multiple companies in a single location. This makes the process of searching and sorting new leads much simpler.
David Crary, President and founder of HindSite, is very excited about this new opportunity. "We are excited to be a part of the AT&T team. We are a good solution for those smaller service based contractors and know we can benefit AT&T as much as they will benefit us."
AT&T provides a wide choice of wireless business solutions that can be tailored to meet the needs of a company's unique line-of-business - to make the company more productive and efficient.
The HindSite Solution has helped contractors better control and grow their business with service management software since 2001. Designed by an irrigation contractor, HindSite assists service businesses with scheduling, contact management, field data collection (e.g. mobile time tracking), and invoicing in QuickBooks®. This paperless work order system has been proven to increase efficiency and organization, meaning greater profit potential with less administrative time for HindSite contractors.