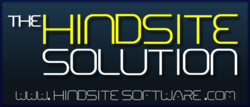 This is a great opportunity for all of those involved. We get to promote our product and application to Intuit's more than 4 million users, while also providing a great solution for QuickBooks' users who are struggling to eliminate paperwork within their
St. Paul, Minnesota (PRWEB) January 31, 2013
HindSite software is pleased to announce the completion of a new app for the Intuit App Center that enables HindSite users to connect to their QuickBooks data via the Cloud. The application is currently under review and should be available on the Intuit App Center by mid-February. The application will be available to use for free for 30 days.
With the application's first release, users of the app will be able to pull QuickBooks data via the Cloud and view it in HindSite. Over the next few months, HindSite will be developing the application to allow users to do more with the company's field service software solution. Further development plans include the ability to allow users to extract data and add and update it within HindSite.
David Crary, President and Founder of HindSite, is very excited about the new application. "This is a great opportunity for all of those involved. We get to promote our product and application to Intuit's more than 4 million users, while also providing a great solution for QuickBooks' users who are struggling to eliminate paperwork within their field service business. We look forward to developing and improving our application over the coming months."
HindSite Software has been a member of Intuit's Developer Network for more than a decade, providing customers with QuickBooks scheduling software that includes a one-click QuickBooks integration. The software company is now a certified Gold Developer, meaning their solution has been rigorously tested by a third party, undergone an extensive customer survey conducted by an independent third party, and been reviewed by a certified QuickBooks ProAdvisor.
Intuit's App Center allows over 4 million small business QuickBooks customers to find, try, buy, and use apps that interact with their QuickBooks data. Customers can try apps ranging from Accounts Receivable Management to Tax Tools, all available with a 30-day risk-free trial.
About Intuit
Intuit has been "innovating, empowering, and delighting" since 1983. They provide business and financial solutions for everyone from consumers, to small businesses and on to accounting professional. Intuit's flagship products are QuickBooks, TurboTax, and Quicken.
About HindSite Software
HindSite Software has helped contractors better manage and grow their business by eliminating paper processes with field service management software since 2001. Designed by an irrigation contractor, HindSite assists service businesses with scheduling and billing, contact management, field data collection (e.g. mobile field service software), and invoicing in QuickBooks®. This paperless field service management software has been proven to increase efficiency and organization, meaning greater profit potential with less administrative time.