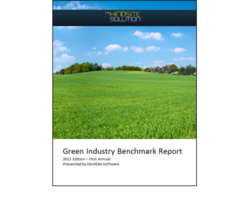 The Green Industry Benchmark Report contains information that will help green industry business owners be proactive instead of reactive.
St. Paul, MN (PRWEB) February 26, 2013
According to the recently released Green Industry Benchmark Report, 2012 was a relatively good year for green industry businesses. In fact, 83% of survey respondents indicated that their revenue had either stayed the same, or grown when compared to 2011. Given those results, green businesses are optimistic for the future, with just 6% expecting revenues to decline in 2013.
But there are concerns. Just 4% of green industry businesses think Obamacare will positively impact their businesses. And though many expect revenues to grow, just over half of respondents expect to add staff in 2013.
These findings are reported in the 2013 Green Industry Benchmark Report recently released by the premiere green industry software vendor, HindSite Software. The report is the culmination of a month-long surveying effort that reflects the outlook expressed by hundreds of survey respondents who provide services ranging from landscaping and irrigation maintenance and installation to mowing, fertilizing and snow plowing.
"Our goal in this project was to deliver information that would help green industry businesses understand where they stand in relation to their competition, "explains HindSite's marketing manager, Chad Reinholz. "The Green Industry Benchmark Report contains information that will help green industry business owners be proactive instead of reactive."
Among the key findings:

Specialization is on the decline. Green businesses continue to rapidly add new products and services in an attempt to keep their competitors from stepping foot on their customers' property.
Expect prices to rise in 2013. Over 60% of green businesses indicated they are going to raise prices in 2013.
Most green businesses don't have sophisticated marketing programs. Those that can capitalize on modern marketing tactics like social media and email marketing will be at an advantage.
Green businesses not only are very active in business and trade associations, but that activity seems to be paying off. Those active in associations are much more likely to experience revenue growth than those that don't.
Field service software is underutilized, but impactful. Those using field service software were more likely to have experienced aggressive growth and less likely to have seen revenues decline in 2012.
"As a marketer, I was surprised by how many green industry businesses get the majority of their leads from word of mouth," Reinholz said. "That tells me that for most green businesses, sophisticated marketing isn't part of the equation."
The Green Industry Benchmark Report is available free at http://www.hindsitesoftware.com/2013-green-industry-benchmark-report.cfm. HindSite will also be presenting a webinar related to the findings titled 7 Things We Learned From the Green Industry Benchmark Report at 1 p.m. Central on Tuesday, March 5. Visit https://www4.gotomeeting.com/register/523983815 to register today.
About HindSite Software
HindSite Software has helped green industry contractors better manage and grow their business with field service management software since 2001. Initially designed as irrigation business software, HindSite today assists service businesses with scheduling and billing (e.g quickbooks scheduling software), contact management, field data collection, and invoicing in QuickBooks®, Sage Peachtree®, and Simply Accounting®. This paperless field service management software has been proven to increase efficiency and organization, meaning greater profit potential with less administrative time.