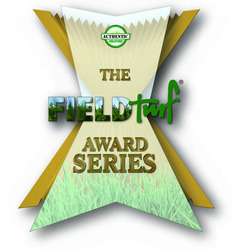 Montreal, Canada (Vocus) December 11, 2009
FieldTurf announced the winners of the 4th annual 2009 FieldTurf Lacrosse Awards today. Award-winners were named in seven categories, including six college coach of the year winners and one team of the year winner. More information on the FieldTurf Awards Series can be found at http://www.fieldturf.com/awards
This year's winners are:

NCAA Division 1 Coach of the Year (Men's Lacrosse) – Jeff Tambroni, Cornell University
NCAA Division 1 Coach of the Year (Women's Lacrosse) – Kelly Amonte Hiller, Northwestern University
NCAA Division 2 Coach of the Year (Men's Lacrosse) – John Jez, C.W. Post Long Island University
NCAA Division 2 Coach of the Year (Women's Lacrosse) – Joe Spallina, Adelphi University
NCAA Division 3 Coach of the Year (Men's Lacrosse) – Dave Campbell, Middlebury College
NCAA Division 3 Coach of the Year (Women's Lacrosse) – Patty Kloidt, Hamilton College
NCAA Team of the Year – Northwestern University (women's)
JEFF TAMBRONI (Cornell University): Jeff Tambroni's squad advanced to the national championship game this year for the first time since 1988. Although the Big Red lost the title game by a score of 10-9 in overtime to Syracuse, this was the second final four appearance for Cornell in the last three years. Cornell finished the year with a 13-4 record overall and a mark of 5-1 in the conference, earning Tambroni this year's NCAA Division 1 Coach of the Year award. This is the second time Jeff Tambroni has won this award as he was the runaway winner in 2007.
KELLY AMONTE HILLER (Northwestern University) – A repeat winner from the 2006 and 2008 FieldTurf awards, the name Kelly Amonte Hiller has become synonymous with excellence in the world of college lacrosse and also with this award. Under Amonte Hiller's guidance, the Wildcats roared to a perfect 23-0 record in 2009, capped by the 'Cats' fifth-straight national championship in May. She now has seven national championship rings, including the two she won as an All-American at Maryland. Kelly Amonte Hiller is making her mark as one of the best lacrosse coaches of all-time.
JOHN JEZ (C.W. Post Long Island University) – Under Jez's guidance in only his third season as head coach of the Pioneers, the C.W. Post men's lacrosse team captured its second NCAA championship title since 1996 with an 8-7 win over undefeated LeMoyne College at Gillette Stadium. The Pioneers were the top-ranked team in scoring offense, man-up offense, face-off win percentage and scoring-margin. John Jez was an easy choice for this year's NCAA Division 2 Coach of the Year.
JOE SPALLINA (Adelphi University) - In only his second year with the Panthers, Joe Spallina led Adelphi (his alma mater) to the NCAA championship as his team went 18-0 in 2009. Spallina's Panthers led the nation in scoring offense and scoring defense and took the Division 2 national title. Joe Spallina is a well deserving winner of this year's NCAA Division 2 Coach of the Year.
DAVE CAMPBELL (Middlebury College) – Campbell led his team to its 12th consecutive trip to the NCAA Tournament in '09. Middlebury ended the '09 season with a 9-1 mark in NESCAC play, winning the regular season title by two games. The Panthers advanced to the NCAA semifinals for the eighth time in school history, ending the year with a 15-3 mark. Campbell is one of the best coaches in Division 3 and has been for sometime now. Dave Campbell was a lock for this year's NCAA Division 3 Coach of the Year.
PATTY KLOIDT (Hamilton College) – Coach Kloidt guided Hamilton to yet another successful season posting an overall record of 16-3 and continuing their impressive undefeated streak at home. Hamilton captured the league's regular season and tournament crowns in 2007 and 2008, while 2009 was another proud season for the team. The gritty Continentals lost to Franklin & Marshall in the semi-finals of the national championship tournament. Patty is a repeat winner of this award having taken home the prize in 2008. Kloidt has certainly made her mark on Division 3 lacrosse and has once again earned this year's NCAA Division 3 Coach of the Year award.
NORTHWESTERN UNIVERSITY (Women's) – With a great coach and a great program for developing players, it is no surprise that the women's Northwestern Wildcats are a lacrosse dynasty and well deserving of the 2009 FieldTurf NCAA Lacrosse Team of the Year award for the second year in a row. They are only the second team in the history of Division I women's lacrosse to win five consecutive titles and have earned their place in history with the all-time best.
The FieldTurf Coach of the Year Awards recognize a coach's dedication and hard work both on and off the field. The coaches that have been and will be selected for this award all exemplify outstanding leadership skills and enjoy well-deserved success. Special attention is given to coaches who are able to significantly improve their team's effort, performance, and overall record from previous years along with coaches who enjoy success with young and inexperienced teams.
The FieldTurf Team of the Year Awards acknowledge teams at all levels of sport that show a passion for the game along with dedication to team play. The teams that will be selected for this award will be teams that have enjoyed success and made considerable improvements from previous years within their respective leagues.
FieldTurf offers industry leading engineering and manufacturing resources, unparalleled leasing and financing capabilities and leads the synthetic turf industry with regard to setting higher environmental standards. FieldTurf is the global market leader in terms of synthetic sports fields with over 3500 fields installed. Additionally, FieldTurf has attained over 15,000 satisfied customers in high quality pet, residential, commercial and municipal landscaping solutions, playground surfacing and has a complete range of golf and tennis products. FieldTurf synthetic turf customers enjoy the benefits of significantly reduced water consumption, the elimination of fertilizer and pesticides, superior durability and drainage and a product that looks and feels real. The positive environmental impact of FieldTurf provides the added benefit of LEED building contributions.
FieldTurf is part of Tarkett Sports, a Division of the Tarkett Group. Tarkett Sports is the largest entity in the sports and landscape surfacing industries. Included within the Tarkett Sports portfolio is an impressive range of performance sports flooring products. This product range includes: synthetic and hardwood basketball; volleyball and gymnasium flooring; squash and racquetball courts; floor protection and covering systems; weight room flooring; and high performance indoor and outdoor running tracks, featuring Beynon and Atlas track surfaces. All Tarkett Sports surfaces are developed, produced and installed with a concentration on sustainability and a commitment to protecting the environment, providing additional LEED contribution opportunities for customers. The company calls this focus on sustainability and the environment 'Environmental Intelligence' and all company personnel strive to exemplify this philosophy in all aspects of the business.
For more information, please visit http://www.fieldturf.com
Contact:
Jason Smollett
Marketing Manager
FieldTurf
800-724-2969
###