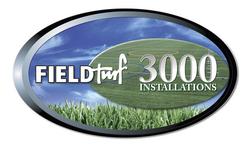 Redmond is proud to be the 3000th installation of FieldTurf's synthetic field surface product and we are happy to be part of this milestone
Redmond, WA (Vocus) January 29, 2009
FieldTurf, the world leader in artificial turf surfacing, is installing its record-breaking 3000th installation worldwide at the City of Redmond's Grass Lawn Park. The City of Redmond purchased their first FieldTurf field in 2000 and then went on to add 6 more fields at various parks around the city. FieldTurf is a significant upgrade to natural grass fields due in large part to its environmental benefits and its ability to accommodate all of the City's sports teams, as well as community and non-sporting events.
Mayor Marchione and FieldTurf executives will be present at the celebratory ribbon-cutting ceremony to be held at Grass Lawn Park in the spring.
"Redmond is proud to be the 3000th installation of FieldTurf's synthetic field surface product and we are happy to be part of this milestone," stated City of Redmond Mayor John Marchione. "A very important reason we use this product is because of its environmental benefits. We save a significant amount of water, fertilizer and carbon emissions every year. It is a very durable, grass-like artificial surface and the community has been thrilled with our state-of-the-art playing fields. FieldTurf has provided us with excellent, professional service since we began our relationship in 2000. "
"We are very pleased that our 3000th installation falls on such a loyal and satisfied long-time client," said FieldTurf Tarkett CEO Joe Fields. "It is a great accomplishment for our team to have reached this number -- yet we still have the same amount of excitement and dedication as if this were our very first installation. The quality measures we have in place ensure that the City of Redmond will always receive industry-best products and services from FieldTurf. All of us at FieldTurf are celebrating our 3000th installation, and we're happy that the City of Redmond brought us to this achievement"
FieldTurf helps organizations earn the necessary points needed for U.S. Green Building Council LEED certification. FieldTurf's reused rubber content and water use reduction, among other factors, can contribute numerous points towards LEED certification. FieldTurf is also a proud member of the U.S. Environmental Protection Agency's Greenscapes program that aims towards providing cost-efficient and environmentally friendly solutions for landscaping.
FieldTurf Tarkett, a Division of the Tarkett Group, is the largest entity in the sports surfacing industry and offers unparalleled leasing capabilities, engineering, manufacturing resources, and environmental standards. In addition to its world-renowned FieldTurf and Prestige brands of artificial turf, FieldTurf Tarkett provides an equally impressive range of sports flooring products that includes synthetic and hardwood basketball, volleyball and gymnasium flooring, squash and racquetball courts, floor protection and covering systems, and weight room flooring. Also in the range of FieldTurf Tarkett products are high performance indoor and outdoor running tracks including the Beynon track surfaces, playground surfacing, commercial and residential landscaping, and a complete range of tennis and golf surfaces. All of FieldTurf Tarkett's surfaces are developed, produced and installed with a concentration on sustainability and a commitment to protecting the environment. The company calls it 'Environmental Intelligence' and lives by this principle in every way. For more information, visit http://www.fieldturftarkett.com.
Contact:
Jason Smollett
FieldTurf Tarkett
800-724-2969
###