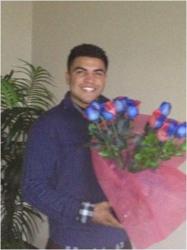 "These Fiesta Roses are the sickest flowers I've ever seen," Ortiz said, smiling. "KU Colors baby! Rock Chalk!"
Orlando, FL (PRWEB) April 24, 2013
Victor Ortiz was in the fight of his life, but the dance floor not the boxing ring is what provided the challenge. Victor Ortiz and his partner, Lindsay Arnold, were voted off on Tuesday night. Ortiz was grateful for his fans keeping him on for many weeks and thankful that he has made life-time friendships with the "Dancing With the Stars" celebrities and dancers.
Ortiz recently admitted to AfterBuzz TV, "The After-Show Network," just how athletically challenging DWTS really is: "That's actually a harder fight than a boxing match," he said, adding, "There's no joke there. That's tough."
Here's what "Dancing With the Stars" has to say about the former Welterweight Boxing Champion: "Victor Ortiz is a living, breathing example of the American dream. From a broken home in a small town in Kansas to the bright lights of the boxing ring, Ortiz has used every obstacle he has encountered along his journey to fuel his strength and attain his dreams."
Speaking of his home state of Kansas, Ortiz's demeanor lit up recently when someone gave him a beautiful bouquet featuring school colors for the University of Kansas Jayhawks. "These Fiesta Roses are the sickest flowers I've ever seen," Ortiz said, smiling. "KU Colors baby! Rock Chalk!"
A photograph of Ortiz with his colorful bouquet of Fiesta Roses, along with his comments, can be found at http://www.FiestaRoses.com/celebrity_testimonials.
In addition to "KU Colors," Fiesta Roses also come in a wide variety of attractive hues, including Aqua, Blue, Emerald, Kiwi and Purple. They also come in bi-colors, like Dreamsicle (orange-white), Fire (red-white), Ice (blue-white), Inspiration (purple-white), Lucky (green-white) and Sunshine (yellow-white). In addition, Fiesta offers multi-colors, including red, white and blue.
From the very beginning of this season's "Dancing With the Stars," Ortiz has shown his gratitude to his fans for their support. Here's what he recently texted on Twitter: "Thanks for everyone's support tonight! Vote for @Dance9Lindsay and me at 18008683204 or text 'Vote' to 3402 if you're on @ATT!"
The next few shows will determine if Victor Ortiz gets bumped from the competition or goes on to the winner's circle.
The Fiesta Roses toll-free number is 1 (800) 986-2918. Fax is 321-622-6958. Business hours, on the east coast, are Monday through Friday, 9 a.m. to 5 p.m. The address is 295 North Drive, Suite D, Melbourne FL 32934.
ABOUT: Fiesta Roses is based Melbourne, FL, along what is known as Florida's Space Coast. The company specializes in quality roses that are cultivated, classified and inspected to maintain Fiesta's high standard. It is a member of the Business Alliance for Secure Commerce and associated with Flor Ecuador and The Rainforest Alliance. Fiesta Roses is a quality client of (PrintAndRadio.com).