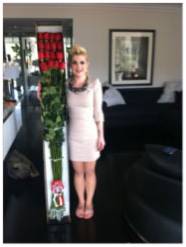 Kelly Osbourne "I can't get over these flowers @georgelopez sent me they are amazing"
Atlanta, GA (PRWEB) April 25, 2013
Several news outlets are reporting that Taylor Swift is helping Selena Gomez write a "break-up song" after her split with Justin Bieber, but FiestaRoses.com thinks the couple should re-unite. Some in the media agree.
William Earl of Hollywood Life recently wrote a story headlined, "Justin Bieber & Selena Gomez Should Get Back Together—Timing Is Perfect," adding "Justin & Selena Were Born To Be Jelena."
But how to make up?
FiestaRoses.com, of course, suggests sending her a rose she has never seen before so he can "Sweep her off her feet all over again."
Do roses have that much power? "Yes," suggest the testimonies at http://www.FiestaRoses.com/celebrity_testimonials.
Here's how some other celebrities reacted after receiving Fiesta Roses:
"These Fiesta Roses are the sickest flowers I've ever seen. KU Colors baby! Rock Chalk!"—Victor Ortiz
"Oooooooohhhh the most beautiful six-foot roses just came to me!!! Yes!!! Six-foot tall!!! http://www.theultimaterose.com These will blow UR mind."—Kirstie Alley
"I can't get over these flowers @georgelopez sent me they are amazing."— Kelly Osbourne
"Have you ever seen a rose this tall??"—Eva Longoria
"Now these are roses!!"—Snooki
Fiesta Roses come in a wide variety attractive hues, including Aqua, Blue, Emerald, Kiwi and Purple. They also come in bi-colors, like Dreamsicle (orange-white), Fire (red-white), Ice (blue-white), Inspiration (purple-white), Lucky (green-white) and Sunshine (yellow-white). In addition, Fiesta offers multi-colors, including red, white and blue.
"The combination of very high elevation, perfect year-round climate and incredibly fertile volcanic soil make it the perfect place to grow large beautiful roses," a spokesperson said. "It is our mission to provide our customers with the freshest, highest quality and most unique fresh-cut floral products in the world."
Whether it's meant for a celebrity, Mom, a favorite teacher or friend, each Fiesta Rose is carefully inspected and must adhere to strict standards, officials said.
For more information about Fiesta Roses and its various offerings, visit http://www.FiestaRoses.com. The toll-free number is 1 (800) 986-2918. Fax is 321-622-6958. Business hours, on the east coast, are Monday through Friday, 9 a.m. to 5 p.m. The address is 295 North Drive, Suite D, Melbourne FL 32934.
ABOUT: Fiesta Roses is based Melbourne, FL, along what is known as Florida's Space Coast. The company specializes in quality roses that are cultivated, classified and inspected to maintain Fiesta's high standard. It is a member of the Business Alliance for Secure Commerce and associated with Flor Ecuador and The Rainforest Alliance. Fiesta Roses is a quality client of Print & Radio (http://www.PrintAndRadio.com).