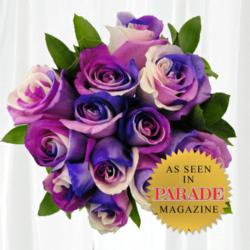 "It is our mission to provide our customers with the freshest, highest quality and most unique fresh-cut floral products in the world."
Indianapolis, IA (PRWEB) May 03, 2013
Pity the poor Moms of generations ago who used two-week-old, black-and-white, still photos to share murky memories of Mother's Day. Now, the relationship specialists at FiestaRoses.com (http://www.FiestaRoses.com) present 7 ways modern-day Moms can share colorful images of beautiful roses to friends and family members around the world, instantly, on May 12.
FiestaRoses.com offers a wide variety of colorful flowers, including Aqua, Blue, Emerald, Kiwi and Purple. They also come in bi-colors, like Dreamsicle (orange-white), Fire (red-white), Ice (blue-white), Inspiration (purple-white), Lucky (green-white) and Sunshine (yellow-white). The company can provide overnight delivery to anywhere in the continental United States. For Mother's Day, Fiesta Roses can be purchased at a 20-percent discount using the promo code: Mother.
After photographing her roses, here are some online outlets Mom can use:
Facebook – Once the digital images are posted, family and friends can hit "Like," making Mom even happier.
Twitter – After the post, followers can re-Tweet Mom's original communication, revealing to everyone what a thoughtful family she has.
Tumblr – In addition to text and photos, Mom can add quotes, links, music and videos, a virtual cornucopia of multi-media meanderings.
Instagram – After posting images, Mom can also share them via Facebook, Twitter and Tumblr.
Vine – This mobile app enables Mom to capture and share short looping-videos of up to six seconds, over and over and over again.
YouTube – If Mom's video goes "viral," she and her roses may become an overnight sensation.
ZipaClip – This free application for the iPhone, iPad and iPod lets Mom record and privately share video messages of up to 30 seconds.
Fiesta Roses is located in Brevard County—along what is commonly called Florida's Space Coast. According to the company, its facilities feature refrigerated storage as well as top-quality processing systems; its roses are cultivated in Ecuador, high in the Andes Mountains.
"The combination of very high elevation, perfect year-round climate and incredibly fertile volcanic soil make it the perfect place to grow large beautiful roses," a spokesperson said. "It is our mission to provide our customers with the freshest, highest quality and most unique fresh-cut floral products in the world."
Each rose is carefully inspected and must adhere to very strict standards. Why such care? Because bringing a smile to a Mom's face is a big responsibility—one that Fiesta staff members take very serious.
For more information about Fiesta Roses and its various products, visit http://www.FiestaRoses.com. The toll-free number is 1 (800) 986-2918. Fax is 321-622-6958. Business hours, on the east coast, are Monday through Friday, 9 a.m. to 5 p.m. The address is 295 North Drive, Suite D, Melbourne FL 32934.
ABOUT: Fiesta Roses is based Melbourne, FL, along what is known as Florida's Space Coast. The company specializes in quality roses that are cultivated, classified and inspected to maintain Fiesta's high standard. It is a member of the Business Alliance for Secure Commerce and associated with Flor Ecuador and The Rainforest Alliance. Fiesta Roses is a quality client of Print & Radio (http://www.PrintAndRadio.com).