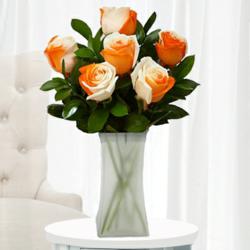 "Roses are given to lovers all the time, but few people know that roses are one of the best sexual aphrodisiacs."
Tallahassee, FL (PRWEB) April 27, 2013
Legend has it that Cleopatra enticed Mark Antony with a bed of roses more than a foot deep, but scientific research suggests that story may be more than just a myth. That's why the relationship specialists at Fiesta Roses tell clients to "send a rose that will make a lasting impression." Cleopatra certainly did.
According to Dr. Alan Hirsch, founder of the Smell & Taste Treatment and Research Foundation in Chicago (http://www.smellandtaste.org), certain aromas can help create romantic moods and sensual experiences. For example, the doctor has conducted research showing that the scent of flowers is able to influence the mood of a home or an office.
Hirsch has investigated the subject thoroughly, and even authored eight books on the effect that smell and taste have on mood, health, weight loss and relationships. Among his books are "Scentsational Sex: The Secret to Using Aroma for Arousal."
The doctor, who is featured on "Power of Scent," a program now airing on select Public TV Stations (http://www.redorbit.com/news/health/1112816746/smell-and-taste-expert-dr-alan-hirsch-explores-the-impact), was the keynote speaker at ScentWorld 2013 in February, during which he highlighted "how scent can affect one's everyday life, such as weight loss, sexual arousal, emotions, and memory." (http://www.reviewseeker.com/articles/viewarticle.jsp?id=2419949-0)
As far as roses are concerned, Hirsch says their scent evokes "nostalgia that will bring happy moments back to memory." (http://humanflowerproject.com/index.php/weblog/comments/the_science_of_scented_memories)
Brettani Shannona, writing in "The Scents of Seduction," adds, "Scientists across the world have tested men and women's responses to scents in relation to sexual arousal and stimulation. They claim that scents can be used to promote sensuality and even enhance trust."
She points out that, "The smell of an ocean breeze could remind you of your honeymoon, or sniffing roses could bring you back to your first date."
Going one step further, writer Victoria Anisman-Reiner, in her article "Love, Sex and the Sense of Smell," noted that, "Several essential oils are famed aphrodisiacs, boosting and enhancing the sex drive." At the top of that list: Roses. (http://suite101.com/article/love-sex-and-the-sense-of-smell-a41711)
Deana Clark agrees: In her article "10 Best Sexual Aphrodisiacs," roses made her "10 Best" list. She wrote that, "Roses are given to lovers all the time, but few people know that roses are one of the best sexual aphrodisiacs." (http://www.mademan.com/mm/10-best-sexual-aphrodisiacs.html#vply=0)
It should be acknowledged that chocolate also made Clark's list.
Fiesta Roses come in a wide variety of attractive hues, including Aqua, Blue, Emerald, Kiwi and Purple. They also come in bi-colors, like Dreamsicle (orange-white), Fire (red-white), Ice (blue-white), Inspiration (purple-white), Lucky (green-white) and Sunshine (yellow-white). In addition, Fiesta offers multi-colors, including red, white and blue.
The company, which is located in Brevard County—along what is commonly known as Florida's Space Coast—provides overnight delivery to anywhere in the continental United States. Its facilities feature refrigerated storage and top-quality processing systems.
According to the company, Fiesta Roses are cultivated in Ecuador in South America, high in the Andes Mountains.
"The combination of very high elevation, perfect year-round climate and incredibly fertile volcanic soil make it the perfect place to grow large beautiful roses," a spokesperson said. "It is our mission to provide our customers with the freshest, highest quality and most unique fresh-cut floral products in the world."
Each rose is carefully inspected and must adhere to very strict standards. Why such care? Because only the rose knows which one will spark a special memory.
For more information about Fiesta Roses and its various offerings, visit http://www.FiestaRoses.com. The toll-free number is 1 (800) 986-2918. Fax is 321-622-6958. Business hours, on the east coast, are Monday through Friday, 9 a.m. to 5 p.m. The address is 295 North Drive, Suite D, Melbourne FL 32934.
ABOUT: Fiesta Roses is based Melbourne, FL, along what is known as Florida's Space Coast. The company specializes in quality roses that are cultivated, classified and inspected to maintain Fiesta's high standard. It is a member of the Business Alliance for Secure Commerce and associated with Flor Ecuador and The Rainforest Alliance. Fiesta Roses is a quality client of Print AndRadio.com.