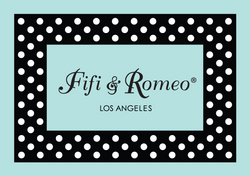 Fifi & Romeo is the staple go-to brand for top fashion nationally and internationally.
Los Angeles, CA (Vocus) November 22, 2010
This month marks the 10th anniversary of the high-end lifestyle brand Fifi & Romeo's world famous Beverly Blvd boutique store in Los Angeles.
Fifi & Romeo's founder and designer Yana Syrkin, the Coco Chanel of pet couture, started the pet fashion market a decade ago, and literally created the industry. Fifi &Romeo continues to be the innovative leader in the pet fashion industry and world renowned for her chic fashion-forward designs.
Fifi & Romeo is the staple go-to brand for top fashion nationally and internationally. Global trendsetting tastemakers and top celebrities own Fifi & Romeo including Oprah, Robert Downey Jr., Angelina Jolie, Al Pacino, Usher, Katy Perry, Alicia Keys, Kate Hudson, Drew Barrymore, Will Ferrell, Cameron Diaz, Penelope Cruz, Ellen DeGeneres, Portia de Rossi, Katie Couric, Ben Stiller, Pink, Nicole Richie, Jessica Simpson, Mariah Carey, Tori Spelling, Reese Witherspoon, Sting, P. Diddy, to Gwen Stefani.
Fifi & Romeo has been featured in Forbes, Seventeen, People, Glamour, Time, The Wall Street Journal, The Los Angeles Times, The New York Times, Elle, InStyle, Harper's Bazaar, Japanese Vogue, Russian Vogue, O, Oprah magazine, In Touch, WWD, Us Weekly, Vogue to box office hits "Legally Blonde" and "Legally Blonde 2: Red, White, and Blonde" to national TV shows including Oprah's "Favorite Things", VH1, E!, MTV, CNN to the hit series Sex & The City.
Fifi & Romeo offers the highest quality of materials and craftsmanship including couture dog outfits that are made of recycled cashmere. The flagship store on Beverly Blvd is not limited to hip fashion for pets, but also includes matching outfits for "mommy and doggy," as well as custom-made accessories donned by celebs such as Katy Perry and Gwen Stefani, to name a few. Fifi & Romeo has been featured in countless TV shows, films, online and print media from around the world. The Fifi & Romeo store is located at 7282 Beverly Blvd, Los Angeles, CA, 90036 and their phone number is 323-859-7215. For more information on Fifi & Romeo, visit http://www.fifiandromeo.com.
For additional information or to arrange for an interview with Yana Syrkin, founder of Fifi & Romeo, please contact PR Specialist Tamara York, email tamara(at)tamarayorkpr(dot)com.
# # #