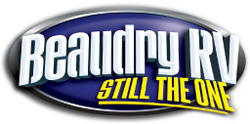 There are so many good recipes out there
Phoenix, AZ. (Vocus) May 14, 2010
Some campers believe life on the road should consist of granola bars, M&Ms and water, but others like a more delicate gastrointestinal experience. For those who want to include their taste buds in the senses that are stimulated in the outdoors, the following recipes will have campers remembering their eating experiences as much as the dramatic scenery around them which is why Beaudry RV Company is announcing their Top Five list of Camping Recipes:
Brats and Beer
Ingredients:

6 to 8 Brats
1 can beer
1 onion, sliced
Preparation: Combine all ingredients on stove over high fire; bring to a boil, then reduce heat and simmer 10 minutes. Remove brats from water and cook on grill. If not using brats immediately, store in juice, then bring to a boil again just before placing on grill.
Campfire Potatoes
Ingredients:

10 potatoes
1 medium onion, thinly sliced
1 green pepper, thinly sliced
1 stick margarine
Seasoned salt
Pepper
Preparation: Peel and thinly slice potatoes and onions. Thinly slice green peppers. Place in Reynold's Grill Bag or on doubled aluminum foil. Slice margarine over potatoes. Sprinkle with seasoned salt and pepper. Seal foil tightly. Cook on grill or campfire grate for about 30 minutes, turning once. Side dish is done when potatoes are tender.
Submitted by - Camelot RV Campground, Poplar Bluff, MO
Indian Fry Bread
Ingredients:

4 cups flour
2 tbsp. baking powder
1 tsp. salt
½ cup shortening (regular, not butter-flavored)
1 cup warm water, approximately
Oil for deep frying (about 4-6 cups)
Preparation: Mix flour, baking powder and salt. Cut in shortening until mixture is just about cornmeal-sized. Add warm water slowly, using only as much as you need to make dough stick together. Divide dough into 6 balls. Cover with a dishtowel and let stand 10-15 minutes. Meanwhile, heat oil to 375 degrees in dutch oven or deep skillet. Shake handful of flour onto a cutting board and flatten each ball into size and shape of salad plate (dough will be sticky). Fry in hot oil one at a time, turning once, until golden brown on both sides. Drain on paper towels. If not using for tacos, serve with honey.
Mesa Verde RV Resort Tequila Chicken(Serves 4)
Ingredients:

1½ lbs. Boneless,skinless, chicken breasts
½ each Red, yellow & green sweet peppers-slices julienne style
½ Onion-very thin slices
2 Tbsp. Olive oil
1 Tbsp. Chicken soup base mix(like Tone's, Lipton, etc.)
3 Tbsp. Lime juice(prefer fresh, but can use bottled)
12 oz. Sour cream(Fat Free or Low Fat can be used)
2 Tbsp. Margarine
1 Tbsp. Garlic-minced
3 Tbsp. Tequila(optional)
¼ C. Parmesan cheese
¼ tsp. Pepper
2 tsp. Cilantro(optional)
3 C. Spinach Fettuccine, uncooked
Salt to taste, because of the soup base mix.
Preparation: Rinse chicken, pat dry; cut into bite size pieces. In a large skillet heat oil and add chicken. Cook for 5 minutes, turning until evenly browned. Remove chicken and set aside. To skillet, add peppers and onion, and sauté until they are crisp/tender. Remove vegetables from the skillet and set aside along with the chicken. To the skillet, add all of the other ingredients except the cilantro and pasta. Over low heat, mix all together, to a creamy texture. Return the chicken and vegetables to the skillet and blend with the sauce. Cover and simmer for 10 to 15 minutes or until the chicken is tender and no longer pink. Meanwhile, cook the pasta according to the packaged directions. Drain. Add the drained pasta to the skillet of chicken, vegetables and sauce. Stir all together. Heat over low, just enough to heat thoroughly. Spoon into a serving dish and garnish with Cilantro.
Submitted by - The Lowery Family/Mesa Verde RV Resort, Mesa Verde, CO
Campfire Hobo Breakfast
Ingredients:

2 thin sliced onions
4 potatos cut in small cubes
1 diced green pepper
8 fresh mushrooms thinly sliced
1-pound fresh sausage (uncooked) torn into small pieces
2 cups shredded cheddar
Salt and pepper
½ tsp. garlic salt
½ tsp. Italian seasoning, dill or rosemary
In a bowl, whip together:

8 eggs
½ cup milk
Salt and pepper
Sprinking of the spices you used above
Preparation: Start your campfire and let it burn down to a good cooking stage. Place your grate on top of the campfire ring. You will need a large piece of heavy-duty aluminum foil. Fold up the edges slightly to keep the liquids from running out. In the middle of the foil, pour egg mixture carefully over top, making sure nothing escapes out of the foil. Add 1 stick of margarine or butter cut into pieces. Fold up foil - holding both long sides together and fold down. Fold until you are a couple of inches from the food. Fold both sides up making a packet. Be very careful and do not puncture foil when handling. Place carefully over the fire. Cook at a medium heat stage - no flames. Cook approximately 45 minutes making sure the fire stays at an even cook stage. Enjoy!
Submitted by - Steve and Jackie Brookhart/Twin Oaks Campground and Cabins, Wellston, MI
"There are so many good recipes out there," says Scott Beaudry of Beaudry RV Company. "It was hard to choose our favorites."
*Recipes courtesy of http://www.gocampingamerica.com
For more information on Fifth Wheels, Class B Motorhomes, Class C RVs and Beaudry RV Company or current trends in the industry contact:
Scott Beaudry
Company: Beaudry RV Company
http://www.BeaudryRv.com
Phone: 520-239-5054
###