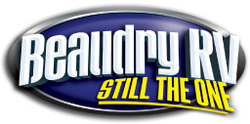 People stopped spending on big ticket items
Phoenix, AZ (Vocus) July 21, 2010
Beaudry RV Company announces continued expansion of their sales force. Only a year ago, Beaudry RV Company was letting employees go after feeling the effects of the recession. "People stopped spending on big ticket items," says Scott Beaudry of Beaudry RV Company. "Their focus was on paying bills and trying to save their homes."
Since January, the economy has shown signs of turning around. While lightweight travel trailers have been the fastest growing segment in the RV industry, Class A RVs and Fifth Wheel Toy Haulers have also seen a steady increase in sales. Dealers are starting to restock their dealerships and with summer in full swing, sales are increasing. Back in February, Beaudry RV Company began refueling theirs sales task force and rehiring in their parts and service department.
As sales stay strong, Beaudry RV has continued to expand their sales force. They are currently seeking to beef up their sales consultant team. With benefits such as medical, dental, life insurance, disability, PTO and 401K, Beaudry RV is showing their employees their services matter to Beaudry RV. Based on the core values of respect, integrity, vision, excellence and teamwork, Beaudry RV Company has maintained status as the top selling RV company in the Southwest.
"All the reports and projections seem to be in agreement that the worst of the recession is over," says Beaudry. "We don't take anything for granted, but we do feel confident that there will be plenty of work for whomever we hire."
Beaudry RV Company has been a leader in the RV Industry for over 40 years. Their customer service, parts department and summer events set them apart from other RV companies. They carry an extensive selection of Class A, Class B and Class C RVs.
For more information on Class A, Class B and Class C RVs, Travel Trailers and Fifth Wheel Toy Haulers and Beaudry RV Company or current trends in the industry contact:
Scott Beaudry
Company: Beaudry RV Company
http://www.BeaudryRv.com
Phone: 520-239-5054
# # #