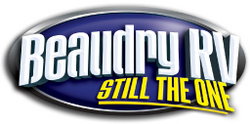 We have been anticipating the worst, but hoping for the best
Phoenix, AZ (Vocus) June 22, 2010
Beaudry RV Company announces consumer demand for RVs is up. While Beaudry RV can speak to their own experience with increased sales, the trend has gone nationwide with numbers consistently increasing throughout 2010.
The Recreational Vehicle Industry Association recently published Dr. Richard Curtain's analysis of the coming years and what it means for the RV Industry. Curtain is projecting a 39% gain over 2009 with over 249,700 shipments. Dealers are re-stocking inventory for the summer months and while consumer confidence isn't back to pre-recession highs, it is slowly re-emerging.
Curtain warns the road ahead will be slow with ups and downs unlike the quick recoveries seen in the past. However, with new lightweight technology and fuel efficient models hitting the market, the RV industry has been targeting a younger generation for sales and they are responding. Towables and lightweight trailers have been some of the top sellers in the market this year.
Class A RVs and Fifth Wheel Camper sales are also up, with high-end vehicle sales continuing to grow over the course of the year. "We have been anticipating the worst, but hoping for the best," says Scott Beaudry of Beaudry RV Company. "We knew the industry couldn't be as bad as last year, but we are constantly encouraged by consumer support of and interest in RVs."
Beaudry RV Company has been a leader in the RV Industry for over 40 years. Their customer service, parts department and summer events set them apart from other RV companies.
For more information on RVs, Travel Trailers and Fifth Wheel Campers and Beaudry RV Company or current trends in the industry contact:
Scott Beaudry
Company: Beaudry RV Company
http://www.BeaudryRv.com
Phone: 520-239-5054
# # #