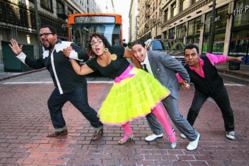 "The eclectic lineup, from indie music and children's theater to traditional dance and film screenings, is sure to appeal to a broad array of cultural consumers looking for a great experience in the heart of Downtown LA."
Los Angeles, CA (PRWEB) May 10, 2013
Much like New York City, Downtown Los Angeles has become a preeminent destination to experience an array of free cultural events year-round. In no small way, Brookfield Office Properties has had an influence. The company's commitment to the arts through its Arts Brookfield has made world-class talent free and accessible to Angelenos of all cultures and ages since 2008. This summer, Arts Brookfield will introduce the inaugural FIGat7th Downtown Festival, a collection of free summer events that celebrates creativity through music, dance, visual art, theater and film.
For music fans the Festival presents six Friday night indie concerts headlined by La Santa Cecilia with The Boogaloo Assassins (June 21), Allah-Las and Prince Rama with Gothic Tropic (June 28), Red Baraat with La Chamba (July 19), Akron/Family and Peaking Lights with Lonnie Holley (July 12), PAPA and NO with LA Font (July 26), and José James with Carolyn Malachi (August 2), many of whom performed at this year's SXSW music festival. Happy Hour and After Party events feature a sponsored cash bar hosted by LA's best DJs at the FIGat7th Taste Lounge.
On Saturdays, families will experience the Australian troupe Polyglot Theatre's interactive performance Tangle (June 7-9), music concerts by the popular LA-based band Lucky Diaz and The Family Jam Band (June 22) and Colombian-born singer-songwriter Nathalia Palis (July 20); a day-long celebration of Native American arts presented by The Red Feather Dance Company (July 13); and a special presentation of Shakespeare's Twelfth Night by The Inner City Shakespeare Program (July 27).
As part of the Los Angeles Film Festival, two free outdoor film screenings will be presented: the 20th anniversary classic and coming-of-age-in-the-'70's tale DAZED AND CONFUSED (June 14), and the world premiere of BRASSLANDS (June 15), the much anticipated new feature documentary by Meercat Media Collective that captures the fiery sounds and incredible sights of Balkan brass music at the world's largest trumpet competition in a hidden Serbian valley. Before the screening, enjoy a dance lesson and performances by Cali brass bands Inspector Gadje and Rakia Brass Band.
Throughout the Festival, LA-based musician, film maker and visual artist Colette Miller asks everyone to "manifest as your higher selves, your higher consciousness, your angelic selves" by stepping into Angel Wings, an Arts Brookfield-commissioned art installation (June 3-August 2).
"Arts Brookfield is thrilled to continue our commitment and contribution to the cultural landscape of Downtown Los Angeles this summer with the inaugural FIGat7th Downtown Festival," says Debra Simon, V.P. and Artistic Director of Arts Brookfield. "The eclectic lineup, from indie music and children's theater to traditional dance and film screenings, is sure to appeal to a broad array of cultural consumers looking for a great experience in the heart of Downtown LA."
This year's festivities will undoubtedly be enhanced by the premier shopping and dining options now available at the rejuvenated FIGat7th, which recently completed a $40M+ renovation. The stunning remodeled open-air layout offers style and taste via a dynamic new City Target and an upscale fast-casual dining experience, TASTE FIGat7th. TASTE features a variety of delightful culinary options including Juicy Lucy Gourmet Burger Bar, The Melt, Oleego by Parks BBQ, Indus by Saffron, Mendocino Farms, George's Greek and soon to arrive, Loteria Grill, Pazzo Gelato and Flying Pig. Additionally, the foodie delights are rounded out on our upper levels with sit down offerings by California Pizza Kitchen and Morton's Steakhouse, and sweet treats by Sprinkles Cupcakes. Attendees can shop and nosh all while experiencing the extraordinary sights and sounds of the FIGat7th Downtown Festival.
FIGat7th Downtown Festival partners are the Los Angeles Times, KCRW, Downtown Center Business Improvement District, Downtown Art Walk, and the DTLA Residents Card. FIGat7th is located at 735 S. Figueroa Street, Los Angeles, 90017, adjacent to Ernst & Young Plaza. FIGat7th is open to the public during the Festival. Early arrival and RSVP is recommended. For all Friday night concerts, Happy Hour at the Taste Lounge starts at 5:30 p.m., concert doors open at 6:30 p.m., and openers perform at 7:00 p.m. Saturday family programs are open to youth of all ages. Park at the FIGat7th garage (entrance on 7th Street) for $5 with retailer validation.
For more information, a complete schedule of events, and to RSVP visit: FIGat7th.com/events
About Arts Brookfield:
Since 1988 more than 5 million people have enjoyed over 5,000 dance, music, theater, visual art, and film events presented by Arts Brookfield, a free, year-round, privately funded performing and visual arts programs. As an initiative of Brookfield Office Properties, the owner, developer and manager of premier office properties in the United States, Canada and Australia, Arts Brookfield animates public spaces in major cities including New York, Los Angeles, Houston, Denver, Toronto, and Perth. Brookfield's portfolio is comprised of interests in 109 properties totaling 76 million square feet in the downtown cores of New York, Washington, D.C., Houston, Los Angeles, Denver, Toronto, Calgary, Ottawa, Sydney, Melbourne and Perth, making it the global leader in the ownership and management of office assets.
TAGS: Downtown Los Angeles, DTLA, cultural, art, arts and culture, concerts, free, family, fun, food, entertainment, film, weekend, festival, band, summer, music, indie music, SXSW, Los Angeles Film Festival, Figat7th, taste, La Santa Cecilia, The Boogaloo Assassins, Allah-Las, Prince Rama, Gothic Tropic, Red Baraat, La Chamba, Akron/Family, Peaking Lights, Lonnie Holley, PAPA, NO, LA Font, José James Carolyn Malachi, Polyglot Theatre, Tangle, Lucky Diaz and The Family Jam Band, Nathalia Palis, The Red Feather Dance Company, The Inner City Shakespeare Program, Dazed and Confused, Brasslands, Inspector Gadje, Rakia Brass Band, Colette Miller, Angel Wings
###