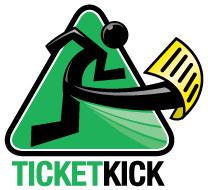 Everyone dreads dealing with the courthouse, so we've made the process friendly and easy. We're on their side.
San Diego, CA (PRWEB) April 26, 2011
A recent survey conducted at the offices of San Diego based TicketKick shows that only about 1 out of 10 people who have recently received a traffic ticket are aware of the 'trial by written declaration.' This process in California allows drivers who have received a basic traffic infraction to mail in their defenses to court instead of having to stand before an officer and a judge. Of those who were surveyed, as many as 8 out of 10 people have had at least 1 ticket in the past and some have even had up to 5 tickets or more, and yet were completely unaware of what their options were in handling their ticket.TicketKick is out to change that statistic throughout all of California.
TicketKick's Vice President of Business Development, Sara Schoonover shares her take on this statistic: "It's shocking to see that most people who live and drive in California every day do not know what their rights are when they get a traffic ticket. When we built TicketKick, our biggest goal was not only to help drivers get their tickets dismissed, but to be the go-to resource for answers to traffic ticket related questions, and to educate the public of what their rights and options are."
When asked about where they stand with their competition in the industry, Ms. Schoonover said, "There really is no competition, considering we have such a high success rate all over California, we keep our fees very low, and we have an unbeatable money-back guarantee. Our customers know us for having excellent customer service, and our friendly representatives are happy to offer a free consultation for people to find out exactly what their options are. Everyone dreads dealing with the courthouse, so we've made the process friendly and easy. We're on their side."
TicketKick's President and CEO is convinced that no other company in the legal industry knows as much about traffic tickets and court procedures as TicketKick does. "Most law firms cover a single area or county. TicketKick has helped drivers fight tickets in every county in California, and it's important to know what each county's procedures and trends are. The success of getting a ticket dismissed sometimes comes down to what kind of judge you get. We have gotten to know the policies of judges very well." He says.
TicketKick is a registered Legal Document Assistant, providing self help services to help people fight their traffic tickets, with a similar service model to companies such as LegalZoom and E*Trade. TicketKick works with attorneys in California to develop their defenses, which utilize many different arguments and tactics in traffic ticket defense. TicketKick's goal is to help people get their traffic tickets dismissed. Although not every customer will win their case, TicketKick offers a refund of the defense fee for most violations when customers are found guilty.
The offices of TicketKick are located in Mission Valley in San Diego, and although most of their business is conducted over the phone and on the web with customers all over the state, local customers are welcome to make an appointment to visit the offices of TicketKick and meet their team. Otherwise, TicketKick representatives are happy to offer a free consultation over the phone. TicketKick customers are encouraged to post their testimonials at Facebook.com/TicketKick.TicketKick representatives can be reached at (800) 580-1902, at http://www.ticketkick.com, or at questions(at)ticketkick(dot)com.
###