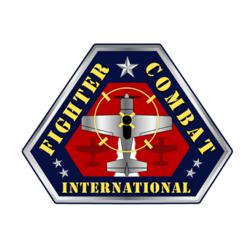 This new airplane has a spectacular paint job that may soon become the standard scheme for all Fighter Combat airplanes.
Phoenix, AZ (PRWEB) December 15, 2011
Just in time for the holiday gift-giving season, Fighter Combat International adds a new Extra 300L to its already impressive fleet of aerobatic airplanes. Fighter Combat International has been providing extreme aviation adventures to a wide spectrum of thrill-seekers and adrenaline junkies since 1997. With the recent addition of a new top-of-the-line Extra 300L, Fighter Combat International will provide extreme flying experiences to even more customers.
The German-built Extra 300L is a world-class unlimited category aerobatic aircraft. The Extra is rated as one of the safest and most capable aircraft and is used by top aerobatic and air show performers worldwide. Fighter Combat International's new Extra 300L airplane features an exciting new paint scheme and comes specially equipped with an integrated projected gun-sight, GPS positioning data, real-time G-loading accelerometer, smoke generators, and a combat sound card for the ultimate experience in fighter combat realism.
For extreme gift giving, Fighter Combat International's top gun aviation experience is hard to beat. They have been listed in The Phoenix New Times as one of the "Best Of" for their fighter pilot air combat adventure in the sports and recreation category, and also earned marks as a Top 21 Ultimate Gifts by Robb Report Magazine.
Fighter Combat International offers a wide range of unique aviation experiences — and these are actual hands-on flying adventures, not simulations! Participants train and then fly high-performance planes to test their combat skills in a culminating dog-fight event. Experienced fighter pilots act as instructor pilots to guard the safety of each client. Flight videos, squadron patches, and awards are also given to all participants
"It is exciting to witness the economy bouncing back as reflected by the increased activity at Fighter Combat International. This new airplane has a spectacular paint job that may soon become the standard scheme for all Fighter Combat airplanes." – says Fighter Combat International president, Paul BJ Ransbury.
About Fighter Combat International
Fighter Combat International is an aerial adventure company that provides a wide spectrum of aviation thrill-seeker services tailored to meet each participant's desire and budget. Participants have the opportunity to fly up to 75 percent of their flight. This is not a simulation and no flying experience is required. Real-as-it-Gets Fighter Jet Rides and Aerobatic Adventure Flights are available for individuals and groups or can be implemented as reward and incentive programs for corporations seeking to reward valued key clients or to motivate high-performing executives.
###