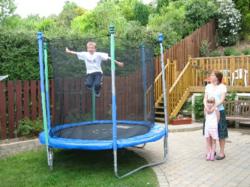 Trampolines are an excellent way to get not only children, but also adults, out of the home and in to the air for some good exercise
(PRWEB UK) 19 September 2012
The NHS has revealed the true statistics of how obesity in children is rising. GardenCentreOnline.co.uk has investigated in to fun and effective ways of how to lower those statistics, and keep children healthy.
In a world of fast food, cartoons and rainy days, childhood obesity is a growing epidemic. The NHS have published a study which shows that 17% of boys, and 15% of girls aged 2-15 are now classed as clinically obese. This is a large rise of 11% and 12% since 1995. There are many ways to see this number decrease, and one way is to encourage the children of today to become active, giving them the tools to an active and healthy lifestyle that will stay with them as they grow older.
There are many studies that show that childhood obesity often carries with the person into adulthood. The NHS made a publication this year, that states that whilst only 9.4% of nursery children (4-5 year olds) are obese, 19% of children in Year 6 (10-11 year olds) are obese. This study shows how young set obesity can affect children later on in life, but there are ways to make it so it does not.
The simplest answer to obesity and tackling it is a good diet, and a healthy exercise regime. Getting children to take part in similar exercises that an adult may undertake is difficult, which is why there are things that have been invented to get them out there. Trampolines are an excellent way to get not only children, but also adults, out of the home and in to the air for some good, clean fun, and some good, clean exercise.
Trampolining requires no skill, and has no age limit. This is what makes it a great option for exercising. Children will take to it, as they will see the fun over the exercising. You will be teaching your children from an early age that exercise can be fun. Invaluable lessons like that can follow children in to their adult lives, instilling healthy attitudes in them for life.