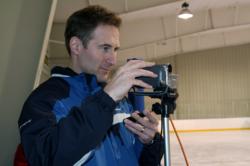 It's a chance for us to make a bigger difference in the world of figure skating.
Madison, WI (PRWEB) April 28, 2013
Beginning on May 1, figure skating educational website iCoachSkating.com will be giving away figure skating videos on "how to figure skate." All figure skating participants are encouraged to watch these videos. The videos will be available at no cost on the iCoachSkating.com website. Notifications of newly published videos will be made on the iCoachSkating.com Facebook page and Twitter stream.
iCoachSkating.com was founded in 2008 by figure skating coach Trevor Laak to fill a need for high quality online figure skating instruction. Even today, nearly five years later, the majority of information available online to figure skating coaches, skaters, adult figure skaters, and skating parents varies from questionable to just plain incorrect. Laak said, "YouTube and similar video sharing websites are fantastic for watching figure skating videos of competition performances. But because anybody can post a video, the instructional information on YouTube is very questionable. All skaters and coaches using YouTube for ideas about how to do certain figure skating moves should be very cautious."
In contrast to the information available on sites like YouTube, paying subscribers to iCoachSkating.com receive a constant stream of new high-quality videos from respected expert coaches sharing their very best figure skating tips and tricks. The site boasts a number of Olympic coaches (Audrey Weisiger, Michelle Leigh, and Frank Carroll) and more than a dozen other expert specialty coaches covering topics such as figure skating jumps, spins, footwork and moves, choreography, off-ice training, and computer video analysis (often referred to as Dartfish analysis). "The video archive on iCoachSkating.com now consists of almost 500 videos," notes Laak.
All paying subscribers have traditionally had access to the full archive of educational videos as well as about eight new videos each month. This is one of the primary benefits of how membership is structured, meaning that paying subscribers have access to potentially dozens of videos on any specific figure skating topic and they also get regular updates with the latest figure skating information. When discussing how subscribers use the site, Laak said, "Our subscribers typically watch the new videos as they become available. And they use the search function on the site to find information about a specific issue or problem they're having."
In the past, iCoachSkating.com has sporadically offered complimentary videos to visitors and non-paying members of the site. But the focus has always been on its paid subscribers. With the new initiative announced today, however, that's about to change. Now any figure skating participant will be able to access a steady stream of high quality information from the online leader in figure skating instruction. "We're very excited to be sharing this information. It's a chance for us to make a bigger difference in the world of figure skating, and it's also a way to give back," said Laak.
In order to maintain the value of the paid subscription, iCoachSkating.com will be providing universal access to one video at a time for a period of roughly 7-10 days. The videos selected for this initiative will be videos previously published and available to paying subscribers. By publishing three or four complimentary videos each month, iCoachSkating.com is giving figure skating participants access to critical information they can use immediately. Laak explains, "The videos in our archives share incredibly valuable information. By digging one of these videos out and sharing it widely for a short time, we can give more people access to this information and make a bigger impact on improving our sport."
To be notified when new videos are available, skating participants are encouraged to Like the iCoachSkating.com Facebook page, follow iCoachSkating.com on Twitter, or sign up for updates on the home page of the website.
A major goal of this initiative is to raise awareness of iCoachSkating.com and the role it's playing in the education of coaches and skaters. In late June iCoachSkating.com will hit the milestone of five successful years online. By constantly listening to subscribers as a way to understand the needs of the figure skating community, the website has become a pillar of knowledge that is slowly transforming the sport.
About: Founded in 2008 by figure skating coach Trevor Laak, iCoachSkating.com is the premier online training and educational resource for all figure skating participants, providing instructional figure skating videos on a broad range of topics, including figure skating jumps, figure skating spins, and other figure skating moves. The website has helped thousands of figure skating coaches, adult figure skaters, figure skating parents, and youth figure skaters by providing cutting edge training techniques and information about how to figure skate and how to teach figure skating. The company's mission statement is "to inspire a new era in figure skating education based on updated information and ideals, so quality information is available to all skaters and coaches in a convenient and cost effective manner." To learn more about iCoachSkating.com, please call (608) 827-3035 or visit them online at http://icoachskating.com.