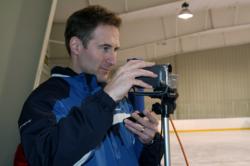 I got excited by what I found. And I wanted to share it with others who had a similar passion.
Madison, WI (PRWEB) June 28, 2013
How-to-figure-skate video website iCoachSkating.com celebrated 5 years online on June 27. The figure skating video site will be celebrating over the next month with free videos and bonus video content covering a wide range of topics including figure skating jumps, figure skating spins, and other figure skating moves.
After more than 18 months of planning and development, iCoachSkating.com was officially launched on June 27, 2008. Figure skating coach Trevor Laak created iCoachSkating.com in response to the need for convenient, quality information for skating coaches. "As an eager young coach, I quickly realized that a majority of figure skating coaches were being taught using methods and concepts that were decades old. As I went searching for the better and more recent information, I got excited by what I found. And I wanted to share it with others who had a similar passion," said Laak.
With an initial waiting list of interested subscribers, the iCoachSkating.com launch was immediately successful. Coaches from around the world banded together to form a community of advanced learning, a community that has grown steadily over time. Laak noted, "We're super grateful for the loyalty of our first subscribers. They provided enthusiasm we needed to seek out great coaches who were willing to share cutting-edge information. A surprising number of our initial VIP Charter Members are still members today." This loyalty speaks to the ongoing quality of the information provided by the website.
Before the launch in 2008, Laak spent months designing the site and populating it with initial content. He spent a huge amount of time contacting coaches, scheduling video shoots, and then editing video. The coaches were selected based on their exceptional knowledge and clear teaching styles. "We owe a huge debt of gratitude to our presenting coaches, who have shared so much valuable information. It's quite possible that our current archive of more than 500 videos exceeds all of the formally-published instructional information that was available to coaches prior to our launch in 2008."
One of the primary concerns that Laak had with coaching education was the reliance on outdated and old-fashioned descriptions of jumps and spins. Most presentations at coaching seminars and conferences focus almost exclusively on how an individual presenting coach teaches certain skating elements. Unfortunately, very few presentations actually focus on detailed observations of what actually occurs in these elements. The result is that coaches tend to mistake a specific teaching method with the actual desired technique. A major goal of iCoachSkating.com has been to provide detailed information about desired technique, so that coaches may gain their own insights and develop their own teaching methods.
An important goal of iCoachSkating.com has been to provide a new depth of coverage by extremely knowledgeable presenting coaches. A significant focus has been placed on teaching methods that correlate well with the technique actually used by elite figure skaters. Thus, the presenting coaches typically have a lot of experience studying slow motion video of skating jumps and spins and present novel teaching methods. "Many of our presenters are Dartfish experts and a number of others have extensive experience analyzing video the old fashioned way...with a VCR," said Laak.
In 2010, access to the video content of iCoachSkating.com was officially granted to figure skaters and figure skating parents. Although originally intended only for coaches, many skaters and skating parents had been joining the site quietly, and it became clear the information was very valuable to them too. In particular, adult figure skaters were joining the site in large numbers to complement the skills and knowledge they were learning from their own coaches. "Interestingly, there was some controversy about opening up the website to skaters and their parents. Some coaches felt it might damage their own credibility and the relationships they have with their skaters and skating families. But there really hasn't been any problems," said Laak.
Today iCoachSkating.com has over 500 instructional videos from more than 20 coaches. Two new videos are added to the site each week and subscribers also receive regular emails notifying them of new posted videos with additional insights about the skills covered. Most of the videos provide detailed teaching methods, but some also go into detail on the common misconceptions that are prevalent in the sport. According to Laak, the website now has hundreds of subscribers from all over the world, including every continent except Antarctica.
To celebrate the 5 year anniversary, iCoachSkating.com will be providing universal access to certain videos for short periods of time. "We also plan to produce some bonus content specifically for our paying subscribers," said Laak. "There will be something for everyone during our celebration over the next month or two."
iCoachSkating.com is currently open to new subscribers. Subscriptions are available on a monthly, 6-month, and annual basis and are renewed automatically. Those interested in "how to figure skate" or "how to teach figure skating" are encouraged to Like the iCoachSkating.com Facebook page, follow iCoachSkating.com on Twitter, or sign up for updates on the home page of the website.
About: Founded in 2008 by figure skating coach Trevor Laak, iCoachSkating.com is the premier online training and educational resource for all figure skating participants, providing instructional figure skating videos on a broad range of topics, including figure skating jumps, figure skating spins, and other figure skating moves. The website has helped thousands of figure skating coaches, adult figure skaters, figure skating parents, and youth figure skaters by providing cutting edge training techniques and information about how to figure skate and how to teach figure skating. The company's mission statement is "to inspire a new era in figure skating education based on updated information and ideals, so quality information is available to all skaters and coaches in a convenient and cost effective manner." To learn more about iCoachSkating.com, please call (608) 827-3035 or visit them online at http://icoachskating.com.