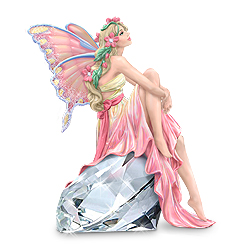 Accented with delicate hues of pink, the signature color for breast cancer awareness, it is evident that every detail of this fairy collectible was carefully considered by Vitale to inspire hope
Niles, IL (PRWEB) May 28, 2011
Serving as a glittering reminder that hope is a mainstay in the fight against breast cancer, The Hamilton Collection proudly announces the release of "Morning Star, The Hopeful" fairy figurine specially designed by acclaimed artist Raoul Vitale. Adding to the powerful message this figurine gives, customers can take comfort in knowing that a portion of the proceeds from each sale will be donated to help find a cure for breast cancer.
Accented with delicate hues of pink, the signature color for breast cancer awareness, it is evident that every detail of this fairy collectible was carefully considered by Vitale to inspire hope. The sculptural fairy sits atop a grandly-sized, round-cut crystal and dreamily gazes into the distance, signifying that each day brings us closer to finding the ultimate treasure - a cure for breast cancer. Plus, a specially-designed remarque of the breast cancer awareness ribbon with fairy wings accompanies each figurine.
The use of the pink ribbon was first introduced in 1991 as a visual identifier of the wearer's support of breast cancer research during a Susan G. Komen Foundation race in New York City. Twenty years later, the pink ribbon and the color itself have taken on a life of their own and represent the promise of hope for a cure.
At a 3-1/2" tall, this breast cancer charity figurine is a perfect addition to any fairy collection or to give as an inspirational breast cancer survivor gift. Every figurine is hand-numbered and offered in a strict limited edition of 95 casting days. A matching-numbered Certificate of Authenticity accompanies each figurine attesting to its status as a limited-edition collectible.
Through customer support, The Hamilton Collection and its affiliated companies have donated more than $800,000 to the ongoing search for a cure to breast cancer. The Hamilton Collection offers a variety of breast cancer awareness figurines and collectibles to spread hope and awareness in unique ways.
To find out more information about this stunning breast cancer support fairy figurine and to browse the unique and wide selection of breast cancer awareness collectibles, please visit: http://www.hamiltoncollection.com.
###