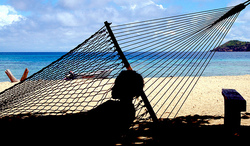 Feejee Experience strives to showcase all Fiji has to offer and this includes the best, low-cost accommodation options where our guests can spend each night at a beach-side resort relaxing, partying or enjoying the activities on offer
Auckland, New Zealand (PRWEB) October 23, 2008
Adventure travel specialists Feejee Experience have launched 'Mangos & Mantarays' a new travel pass with beautiful Mantaray Island in the Yasawa Island Group as the feature overnight stop.
Mantaray Island Resort is the sixth overnight destination to be added to Feejee Experience's backpacking route. It joins the travel network's group of low-cost resort partners, chosen for their prime beach-side locations and extensive range of activities.
Mangos & Mantarays includes return coach and boat transfers to Mantaray Island with three nights accommodation at beach-side Mantaray Island Resort. Here guests can enjoy Manta ray swimming, waterskiing, game fishing, island treks or sunbathing on one of the island's white sand beaches.
The pass also includes overnight stops on Fiji's renowned tourist island Viti Levu where backpackers stay at beach-side accommodation in Nadi, Volivoli Beach as well as Mango Bay Resort on the Coral Coast, winner of the 2007 Fiji Excellence in Tourism Awards.
Feejee Experience is dedicated to showing visitors the 'real Fiji' with Mangos & Mantarays allowing backpackers to explore beyond the expected tourist traps. The pass includes a visit to a local school or orphanage, Bilibili rafting with the Wailotua villagers and a tour of Suva; all part of the 'off the beaten track' experience.
In addition to Mangos & Mantarays, Feejee Experience offers three other hop-on, hop-off passes; The Hula Loop, Lei Low and Tribal Loop, giving tourists a variety of destination and pricing options for exploring Fiji.
EX Group General Manager Sue Sullivan says the company has recently updated the accommodation options on each of their backpacking tours so that every night is spent in one of Fiji's famed beach-side resorts.
"Feejee Experience strives to showcase all Fiji has to offer and this includes the best, low-cost accommodation options where our guests can spend each night at a beach-side resort relaxing, partying or enjoying the activities on offer," says Sullivan.
In addition to the four base passes backpackers can chose from a number of optional add-ons, including dive courses for the beginner to the advanced, and a range of island-hopping excursions to Vorovoro Island, Robinson Crusoe Island and Mantaray Island.
Until the end of November, Feejee Experience is offering a Sleep in Fiji for FREE special where travellers get three nights dormitory accommodation free with any Fiji holiday pass.
For more information on these tours visit http://www.feejeeexperience.com
# # #