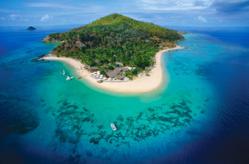 Meals at no cost for the entire month of February, 2013 on Castaway Island, Fiji.
Fiji, South Pacific Islands (PRWEB) December 06, 2012
Throughout the month of February, 2013, Castaway Island, Fiji is offering all guests, who stay five or more nights, complimentary meals for their entire stay.
Resort Manager, Steven Andrews, says, "Our Fiji resort is renowned for its cuisine and delicious menu offerings from Chef Lance Seeto and his team of accredited chefs."
According to Mr Andrews, February is a traditionally quiet time of year for Fiji Resorts. The February Fiji feasting deal has notably increased resort occupancy. "When guests realise the value in dollars this deal gives them it makes the decision to book a very easy one."
Guests staying 5 nights or more throughout February are offered at no cost a full hot and cold buffet breakfast selection and a choice of three dining outlets for lunch including the new family poolside Nuku Marau Bar & Grill, the Sundowner wood fired pizza bar and both a la carte and buffet selections in the expansive open plan dining area.
"The complimentary meals deal includes colourfully themed buffets or sumptuous three course a la carte dining from an extensive menu. We're also throwing into this feasting deal our daily specials," says Mr Andrews.
Children are also catered for. Guests under 13 have their own buffet served from 5:30 to 6:30pm. After, they are welcome to join the fun at the kids club until 10:00pm, giving parents some indulgent time to enjoy sunset cocktails and romantic dining.
The Castaway February Feast is valid for stays 01 to 28 February 2013 inclusive. Conditions Apply.
TO READ MORE ABOUT THE DEAL: Fiji February Feasting Deal on Castaway Island, Fiji
TO BOOK: See your travel agent and quote Castaway February Fiji Resort Feasting Deal OR simply BOOK ONLINE
TO SEE OTHER SPECIALS: Fiji Holiday Packages 2013 to 2014
CONTACT: Karen Marvell, Sales and Marketing Manager, Castaway Island, Fiji.
E: karen.marvell(at)castawayfiji.com(dot)au
W: http://www.castawayfiji.com