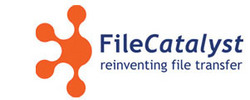 LDAP and Active Directory are the de facto standard for storing user credentials in the enterprise. Relatively few file transfer applications directly interface with these directory systems. This means that enterprise users need to create and manage separate login credentials on the file transfer application
Ottawa, ON (PRWEB) October 24, 2007
Unlimi-Tech Software, a world leader in file transfer solutions, today announced a significant enhancement to FileCatalyst at Interop New York. FileCatalyst is an enterprise managed file transfer system for file acceleration and automation, which now supports LDAP and Active Directory. The new feature set allows FileCatalyst to easily interface with existing LDAP and Active Directory systems to allocate and provision users on the FileCatalyst server. The new features further complement FileCatalyst support for the enterprise through accelerated file transfers, scheduling, compression and industry-grade security.
FileCatalyst provides a complete managed file transfer solution for the enterprise using patent pending technology to overcome network delays and congestion. Industry leading file transfer acceleration combined with incremental transfers and on-the-fly compression, provide real-world increases of 50 fold over traditional file transfer methods. Support for LDAP and Active Directory allows end-users to be easily provisioned on Unix and Windows environments to take advantage of the file transfer features of FileCatalyst.
"LDAP and Active Directory are the de facto standard for storing user credentials in the enterprise. Relatively few file transfer applications directly interface with these directory systems. This means that enterprise users need to create and manage separate login credentials on the file transfer application," explains Christen Charette, Software Development Manager at Unlimi-Tech Software. "With our new support for LDAP and Active Directory, users can use their existing credentials to login to FileCatalyst to transfer files. When the user credentials change on the LDAP or Active Directory, those changes automatically apply to FileCatalyst users. This provides a more seamless, secure and easy to manage system - both for the end-user as well as for IT administrators."
Designed with client-server architecture, FileCatalyst is packaged with a server, desktop clients, java applets and API. A web rendition of FileCatalyst known as FileCatalyst Web complements e-mail for ad-hoc large file transfers, allowing for a more efficient method to store and forward files over traditional e-mail servers. FileCatalyst Web reduces IT archival needs and meets the compliancy standards of various mandates including HIPAA, SOX, and GLBA.
"Our continued focus in the enterprise market has given rise to the new feature set. With our growing list of fortune 500 companies, we continue to deliver solutions that can be easily deployed and maintained by the IT department," said John Tkaczewski, President of Unlimi-Tech Software. "The growing advantages of our accelerated file transfers coupled with benefits such as compression, scheduling and security, are pushing FileCatalyst to be the leading solution in the market."
About Unlimi-Tech Software Inc.
Located in Ottawa, Canada, Unlimi-Tech Software Inc. is a world leader in file transfer solutions. Founded in 2000, the company has more than six hundred commercial and government clients. FileCatalyst, Unlimi-Tech's flagship product, is a software-based solution designed to accelerate and optimize file transfers across global networks. FileCatalyst's products provide a comprehensive file transfer platform for the enterprise. FileCatalyst is immune to the effects that latency and packet loss have on traditional file transfer methods like FTP, HTTP or CIFS. FileCatalyst addresses these issues for enterprise WAN, satellite and wireless communications, media and content providers, and government and military organizations. For more information, see FileCatalyst website at http://www.filecatalyst.com.
Contact Information
Zaki Usman
+1.613.667.2439
http://www.filecatalyst.com
###