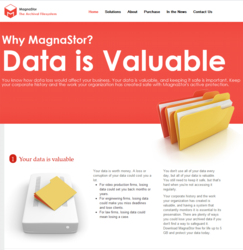 Austin, TX (PRWEB) August 28, 2012
MagnaStor, a software company that provides archival file systems, launched a new website this week.
The website was created with the goal of helping visitors find information faster and more conveniently. MagnaStor provides archival solutions to provide an alternative to Magneto-optical drives.
Users can easily download the version of MagnaStor that best suits their needs, including a trial version of the file system that protects up to five gigabytes of data.
"We're excited about the new website," MagnaStor Senior Programmer Joe Howes said. "The design is clean and simple and the website makes a good case for the differences between MagnaStor and other products."
MagnaStor offers three editions for purchase on its website. The Standard Edition, which comes for free, offers protection for up to five gigabytes of data and basic features and is recommended for the small business with few security concerns. The Professional Edition, which costs $399, offers compression and security features along with protection for up to five gigabytes of data and is recommended for businesses looking to protect data from natural disasters and security threats. MagnaStor also offers the Enterprise Edition, which comes with all of the features of the professional edition, but also offers compliance features for Sarbanes-Oxley.
About MagnaStor
MagnaStor is an international software company that sells archival file systems to companies and individuals looking to protect their data. The MagnaStor system is an archival file system that gives any rewritable data storage device the permanence and reliability of write-once optical media. The system monitors data for unexpected changes. Files protected by MagnaStor are self-healing and support real-time replication.