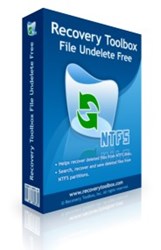 A powerful, efficient, easy to use, and yet absolutely free file undelete tool for the NTFS file system.
Alexandria, VA (PRWEB) October 01, 2012
According to Victor Bobrov, the founder of Recovery Toolbox, "the software was created with two key concepts in mind – simplicity and recovery efficiency. With its extremely straightforward wizard-like interface, the program allows you to complete the recovery sequence in just a couple of simple steps, thus making it a perfect choice for users with no or limited file recovery experience." RecoveryToolbox.Com
Free File Undelete Tool (download it now) works in all Windows versions that support NTFS – from Windows 2000 to Windows 7. One of the few mandatory requirements of Free File Undelete is that the program be started with Administrator rights. Other than that, the only precondition of successful file recovery is the shortest possible period between file deletion and its recovery attempt.
The Free File Undelete Tool distribution package has been tested with the most popular anti-virus software and comes with a 100% safety guarantee ensuring that it is clean of any viruses, malware or unwanted programs of any sort. The file undelete program makes no changes to the structure of the file system when attempting to recover files, thus allowing users to resort to any alternative recovery tools they deem necessary. Files can be restored preserving the original folder structure or saved to a single folder for ease of access.
Free File Undelete Tool is a functional and absolutely free solution for quick and straightforward recovery of deleted files in the NTFS files system.
About Recovery Toolbox
Founded in 2003, Recovery Toolbox is currently the leading providers of data recovery tools for a broad range of programs. The growing portfolio of Recovery Toolbox consists of over 30 award-winning solutions intended primarily for mainstream applications used by millions of people worldwide. The company is committed to creating intuitive and user-friendly tools that help regular users solve complex data recovery and migration problems on their own.
Product Page: http://www.recoverytoolbox.com/undelete.html
Company Site: http://www.recoverytoolbox.com/