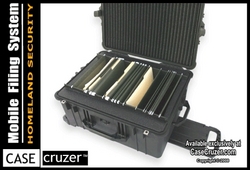 of filing space and is engineered to keep letter-size hanging folders firmly in place, even in heavy winds. Dimensions are 24.56
Montclair, CA (PRWEB) September 17, 2008
When a hurricane strikes, first responders and rescue teams don't arrive on the scene empty-handed. Important documents and official paperwork also must enter the danger zone. Now with the Mobile File Cabinet Pelican Case , emergency personnel can organize essential management documents before disasters like Katrina, Hanna and Ike make landfall. So that when it is time to take action, they need not worry about protecting paper. From hurricane season in Florida to earth quake country in California - and everything in between - CaseCruzer is synonymous with one word: indispensable.
This CaseCruzer case is beneficial not only to public health agencies and emergency-management organizations, like Homeland Security and FEMA. The portable case with an extendable handle, two side folding handles, and exterior mounted urethane wheels is also ideal for individuals swamped by natural disasters. With this file cabinet case, personal documents such as birth certificates, social security cards, insurance papers and banking information are easy to transport. And privacy is a cinch because this durable luggage is fitted with dual flanges that can be secured with padlocks. After all, staying dry is one thing; avoiding theft is another.
The fact is this Pelican case can play an important role any time sensitive records need to be transported in hazardous situations such as major transportation accidents, terrorism, large-scale public health emergencies and technological disasters.
The field-tested 23-pound case is indestructible and designed with a water-tight seal that guarantees 100 percent protection from moisture. It is also airline safe, dust and sand proof, and meets IP66, IP67 and STANAG 4280 certifications.
The exclusive interlocking rib system that CaseCruzer has created allows for 20" of filing space and is engineered to keep letter-size hanging folders firmly in place, even in heavy winds. Dimensions are 24.56" L x 19.31" W x 11.93" H.
In short, natural disaster medical teams and urban rescue units can travel with confidence in the most severe environments: from the rain-swept catastrophe of tropical storms, to the disturbing after-shocks of earthquakes. This shipping case can also withstand temperature extremities from the humidity of the Amazon to the crippling cold of Antarctica. Still have doubts? Casecruzer doesn't. That's why each case is backed by an unconditional lifetime warranty.
Pelican goes the extra mile to provide first-rate carrying cases. CaseCruzer goes to extremes so that you can go safely to the center of the storm.
CaseCruzer provides reusable carrying cases solutions for applications such as Communications, Photography, Computers, Electronics, Weapons, and Medical uses. For more info about the new Pelican case, visit http://www.casecruzer.com call Tatiana Briceno at 800-882-4730 in the U.S. or 909-613-1999 internationally; fax 909-465-5598; or write to CaseCruzer at 4665 State Street, Montclair, CA 91763.
# # #