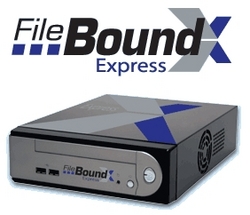 It's the ideal solution for medium-sized companies that desire fast and secure access to information through a system that they own outright
Denver, CO (PRWEB) January 5, 2009
USA-ONE Interactive is pleased to announce the introduction of FileBound Express, the all-in-one document management search appliance that businesses plug in to immediately bring new organization, accessibility and security to office information systems. This Google™-like Search Appliance adds Enterprise Content Management (ECM); "It's the ideal solution for medium-sized companies that desire fast and secure access to information through a system that they own outright" says Bill Thomas, of USA-ONE. No monthly fees, no per document charges. Buy it, connect an unlimited number of users and store up to 2 million documents of any type. It's an ideal resource for business owners who don't feel comfortable having their data and documents transmitted over the Internet for storage.
You can go to http://usa-one.com/filebound-express/overview-introduction-document-management-search-appliance.shtml to immediately see the new 45 second video that outlines our new FileBound Express product offering.
Everything needed is in the box. Rex Lamb, President of the Marex Group says "It's an end-to-end solution that includes hardware, scanning software, database and the Windows™ operating system; simply plug FileBound Express into the network and follow simple steps that have things up and running in less than a few minutes". And, it offers seamless integration with favorite third party software such as Microsoft Office®, QuickBooks® and other applications.
Employees appreciate the simplicity. Being productive is a snap when FileBound Express' easy-to-use search box puts organized information instantly at their fingertips. After using the electronic files, folders, dividers and cabinets a business initially sets up on FileBound Express with the on-screen set-up wizard, finding a document, filing a document or circulating an item is a matter of a couple of clicks. There's no limit to the number of cabinets, folders and dividers a company can set up in their FileBound Express system. Since things are so well organized, there are no more time-wasting searches. No more lost documents. And, because the system allows management to determine access to information, it is easy to keep sensitive or proprietary information secure.
Convenient off-site access. Traveling employees can access FileBound Express documents 24/7 through a password-protected portal link from your website. In addition, documents can be emailed or faxed through FileBound Express using the same password-protected system. Wherever an employee goes, if there is Internet, he or she can tap into the information needed to do their job efficiently.
Archiving has never been easier. Simply scan in paper documents, transforming them into digital documents and file them according to predetermined criteria. No more moldy, bug-infested boxes decaying in the basement. No more expensive storage space off-site. Everything is secure and easily accessible on FileBound Express.
Affordable to own. Rather than paying a monthly fee, coupled with a per-document and per-user charge that most off-site service providers require, organizations purchase FileBound Express outright, for one reasonable price. There are no hidden or ongoing fees. No strings.
About USA-ONE
USA-ONE Interactive, Inc. was founded by Bill Thomas, a successful entrepreneur, author, speaker, and business development executive with more than 25 years of experience in US & global business. USA-ONE provides a series of services brought together under one roof to help businesses and business people wade through the endless volumes of data that consume hours upon hours of business productivity each and every day. Using ultra new concepts and products based in contextual data design, USA-ONE brings to market new products in the areas of content management, data warehousing, business intelligence, data abstraction, and mobile data distribution.
For more information on the advantages and availability of FileBound Express, contact USA-ONE Interactive, Inc. at http://www.usa-one.com.
About Marex Group
Marex Group, Inc. is the developer of the FileBound Express Appliance. The FileBound Express solution is marketed through a network of authorized Value Added Resellers and supported from our offices in Lincoln, Nebraska and Denver, Colorado. For additional information on the Marex Group and FileBound solutions, visit http://www.FileBound.com.
Bill Thomas.
USA-ONE Interactive
(866) 940-USA-1 (8721)
(303) 814-6088
http://www.USA-ONE.com
INFORMATION(at)USA-ONE(dot)COM
Google™ and Google Search Appliance™ are registered trademarks of Google, Inc.
Windows® and Microsoft Office® are registered trademarks of Microsoft Corporation
QuickBooks® is a registered trademark of Intuit
# # #