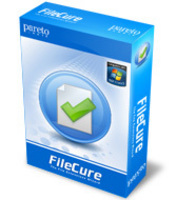 It's a simple but important process. You need to know what the file is, and you need a program to open it. FileCure does it all for you.
Victoria, B.C. (PRWEB) December 9, 2009
ParetoLogic has set out to finally put to rest a problem that has plagued PC owners for years: files with unknown or unsupported extensions. Their latest program, FileCure, provides a straightforward way to identify unknown files and open them, as well as repair errors with file associations.
Adrian Pereira, ParetoLogic's Chief Technology Officer and Co-Founder, explained that "This software really came from our customers. They kept asking us – 'do you have a program that does this?' Now we do."
From Word documents to Adobe PDFs, every file has an associated extension. However, often users will come across a file with an unknown extension, a file that has been associated with an incompatible program, or a file lacking the necessary software. Regardless of the cause, the effect is the same – the file does not open. "Most people don't have the in-depth Windows knowledge necessary to fix all their file extension and association errors," Pereira said. The ease of trading files in the 21st century, be it through email, USB keys, file-sharing software, or online downloads, has only exacerbated this problem.
FileCure combines sophisticated software with an intuitive, easy-to-use interface. Users can perform a full scan with FileCure or simply drag and drop a frustrating file onto the desktop icon. FileCure also scans automatically when a user attempts to open an unsupported file. FileCure then provides users with the two main items necessary to open a file: the type of the file and the program necessary to open it. The required program is delivered through online downloads, linked for easy access through the FileCure application itself. Pereira said of the software: "It's a simple but important process. You need to know what the file is, and you need a program to open it. FileCure does it all for you."
About ParetoLogic:
In 2004 four brothers recognized that modern computer users need not rely on computer repair technicians to maintain their own PCs. Knowing that sophisticated technology married with a truly user-friendly interface would empower people to secure and optimize their own computers, the brothers researched the marketplace to define and develop the software products that would most benefit today's computer user.
ParetoLogic now employs 125 professionals to help them research, develop, and market software applications that will enable people to secure and enhance their computing experience. Available in eight languages in 192 countries around the world, ParetoLogic has established partnerships on a global scale to ensure that its products are available to all computer users, regardless of location, language, or computing experience.
Attention to the needs of the consumer coupled with a commitment to delivering exceptional software applications and resource-rich websites guarantee that our products will exceed your expectations.
###