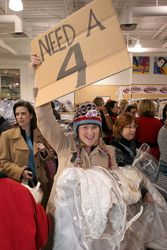 In a bridal salon, the same gowns would cost anywhere from $900 to $9,000, but when wedding gown manufacturers and retailers need to clear space for new arrivals, they sell to www.filenesbasement.com [Filene's Basement] at fraction of those prices
Burlington, MA (Vocus) December 24, 2009
What if you could score a designer wedding gown for under $250, in just three hours or less, and create an unforgettable experience at the same time. That's the promise of the annual Running of the Brides®, Filene's Basement's now legendary sale of wedding dresses. The store, known for its everyday bargains on brand name fashion apparel, stocks the gowns one day a year at selected locations and the 2010 schedule is out.
Shopping for a wedding gown can be daunting, especially when the bride is on a budget. As a little girl, she probably had a vision of walking down the aisle in a knockout designer dress. Cut to adulthood and her dream might just go up in smoke when she comes face to face with the multi-thousand dollar price tag. Unless she shops at the Running of the Brides® sale, where the prices on designer gowns are slashed--most to just $249 and a few of the really high-end dresses are cut to $499 or $699.
"In a bridal salon, the same gowns would cost anywhere from $900 to $9,000, but when wedding gown manufacturers and retailers need to clear space for new arrivals, they sell to Filene's Basement at fraction of those prices," explains Nicole Iaricci, buyer for the Running of the Brides®.
On the day of the event bargain-hunting brides and their teams line up outside Filene's Basement hours before the 8 a.m. opening, many in clever matching outfits to keep track of each other once inside the store. Helpers grab gowns off the racks and stand guard while each bride takes stock of what she has. If her dream dress isn't there, team members fan out to barter one dress for another until she finds the one.
Each bride who buys a gown gets her own "I survived the Running of the Brides®" tee shirt. For brides who don't like crowds there are plenty of great deals to be found later in the day when things calm down. Either way, bring a camera—veterans of this sale agree, it's an experience worth preserving.
More brides than ever are travelling to this event from all over the U.S. and abroad, using their bargain-hunting instincts to score deals on airfare and hotel. Check with Filene's Basement to find out if any local hotels are offer special Running of the Brides® packages.
Here is the 2010 schedule for the Running of the Brides® at Filene's Basement stores:
Aventura, FL January 15
Columbus, OH January 29
New York City February 5
Boston February 19
Atlanta March 19
Chicago July 23
Washington, D.C. July 30
Boston August 20
Cleveland, OH August 27
The Running of the Brides® sale starts at 8:00am; closing time varies by store; one day only, all sales are final. Cash, checks and credit cards accepted. All sales are final. For FAQ's and tips, go to http://www.filenesbasement.com or visit us on Facebook.
###