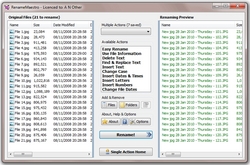 Intuitive software with extensive functionality is essential to getting tasks completed quickly and easily, so don't just choose the cheapest option.
(PRWEB) February 23, 2010
Ulfwood Ltd today announces a new update to their file renamer RenameMaestro version 3. This batch file renamer can save hours of time to by helping users quickly rename files, whether they're music files, photos or important documents.
Renaming files by hand is incredibly long winded; its easy enough with just a few files, but with dozens or hundreds the slightly repetitious chore becomes utterly tedious. Not only that but the chances of making a mistake increases with boredom. What's needed in this case is a swift and easy way to file rename. The functionality needed will depend in a large part on the usage required right now, but its a mistake just to look at today's requirements if that only creates more cost tomorrow.
Some of the fundamentals that any competent file renamer should be able to handle is the ability to alter some or all of the names or file extensions, and at the very least rename hundreds of files at the same time. RenameMaestro can rename thousands at once. If some files are misspelled then the choice to be able to find and then replace those misspellings in thousands of files at a time can't be overstated. And for any fan of music or photography, being able to read internal information like the composer, shutter speed, album name or exposure can be vitally important when choosing new names. A good mp3 renamer or photo renamer can do just that without ever changing the file itself. RenameMaestro can also find out information from inside PDF and other files.
However the over riding concern of any piece of software must be ease of use, and this is where a diverse over crowded field comes sharply into focus. There are many free file renamers, yet a lot seem to require a degree in Advanced Convoluted Software in order to be able to use them. RenameMaestro is a very easy to use file renamer, and it can handle the all of the fundamental functionality previously mentioned and more. This update to version 3 means that it gives more feedback to its users.
Paul F. Wood of Ulfwood said:
"Simplicity and ease of use are the keys when you need to get chores out of the way quickly and easily, and the intuitive feel of software is absolutely essential in the long run. Whenever you search for any utility piece of software, make sure you look for a small learning curve and extensive functionality - in the long run this will save you money and time. RenameMaestro helps you rename up to three thousand files in one click. You also get an instant preview every step of the way so you can see your results long before you rename the files, which helps when renaming multiple files."
RenameMaestro is available as a free trial download right now.
About Ulfwood and RenameMaestro
Ulfwood is a small company with big ambitions to create applications which are intuitive, extensive and easy to use. For more information don't hesitate to contact us about our file renamer or anything else.
Media Contact: Paul F. Wood
Telephone: +44 20 8133 7497
###