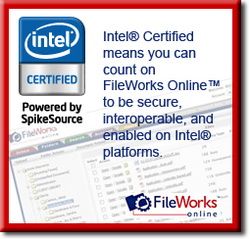 Small- and medium-sized businesses depend on Intel technology to stay competitive
Incline Village, Nev. (PRWEB) October 3, 2008
FileWorks™ announced FileWorks Online™, the company's secure online document management site, has been awarded the Intel® Certified Powered by SpikeSource logo through participation in the Intel® Certified Solutions Program.
The Intel® Certified Solutions Program provides independent testing for security, interoperability, and enablement on Intel® processor family-based platforms. This certification demonstrates to prospective customers that FileWorks Online™ has been tested for security vulnerabilities and has met pre-defined standards for quality, security, and performance, giving them greater peace of mind in choosing to deploy the solution.
FileWorks Online™, a virtual file cabinet, makes files accessible through an easy-to-use website and provides companies the ability to securely share files internally and externally. A free trial with no credit card required is available at http://www.FileWorks.com/Intel.
"Companies need to be concerned about the security of their data," said Len Mayo, Business Development Manager at FileWorks™. "Studies show that most organizations do not adequately protect confidential or regulated files and documents. In one report, 81 percent had misplaced at least one laptop with sensitive or confidential business data in the past year. With FileWorks Online™, companies can control access to files, thereby protecting their data."
FileWorks Online™ starts at $29.99/month. At less than the cost of a cup of coffee per day, the system is affordable for any size business. It expands as a company grows, allowing for additional users, storage and branding features.
"Small- and medium-sized businesses depend on Intel technology to stay competitive," says J. Scott Harrison, director Partner Programs Organization for Intel Software and Service Group. "For those businesses, we hope the Intel brand is a symbol of assured quality and that when they see the Intel® Certified logo, they know that it's a solution that they can trust."
FileWorks Online™ helps companies implement a digital-based system, often referred to as a "paperless office." Last month, FileWorks™ partnered with Kodak Document Imaging Products to provide complete scanning and document management solutions for businesses to move to a digital-based environment.
About FileWorks™
Since 1997, FileWorks™ has provided secure document management solutions for regulated industries, such as healthcare, where data security is critical. iFile™, the company's flagship product, is an enterprise-wide, scalable software and hardware solution for imaging and workflow that allows controlled, auditable access to sensitive data. FileWorks Online™ provides online document management and secure storage for any size company without requiring capital investment in servers and equipment.
###