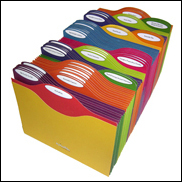 takes the work out of paperwork.
San Luis Obispo, CA (PRWEB) March 5, 2007
MyVitalFiles, Inc. has designed an Innovative, ready-to-go Home Filing Solution that brings simplicity and peace of mind to a common problem: keeping track of life's essential paperwork.
Organizing home documents and dealing with the daily deluge of paperwork that accompanies modern life is tedious and time-consuming. Just setting up a filing system can be overwhelming due to uncertainty about which documents to keep and where to put them. Without an efficient, easy-to-use system in place, household paperwork can quickly turn into chronic clutter - consuming valuable time, energy and space.
But like death and paying taxes, organizing vital paperwork can not be avoided forever. It needs to be done - and sooner is better than later. Just ask the person who wasted hours sorting through piles of papers to find a critical tax receipt; the family whose valuable records were lost in a fire or flood because there wasn not time to find and pack them up; or the spouse or family member left frantically searching through desk drawers and boxes for medical, insurance or financial documents in the midst of dealing with the serious illness or death of a loved one.
The peace of mind of having important documents organized and easily accessible in case of emergency or illness is priceless. Fortunately, a stress-free, no-assembly-required solution to achieve that is now available thanks to a creative San Luis Obispo, California couple. It's called the MyVitalFiles™ Home Filing Solution.
Certified Financial Planner® and Psychotherapist Steve Thayer and Graphic Designer Peggy Thayer recently introduced a uniquely functional, esthetically-pleasing Home Filing Solution system that "takes the work out of paperwork." Developed from experiences in their own lives, and a desire to help others, the Thayer's utilized their professional and personal strengths - including strong intuitive, organizational and design skills to create a filing system so simple and self-explanatory, anyone can use it.
The practical, ready-to-go system has unique features not available with any other filing product currently on the market, and makes the task of filing important documents easy by streamlining and demystifying the process of getting started. Colorful, artfully-designed file folders are pre-labeled, color-coded, collated alphabetically with intuitive categories. MyVitalFile's Home Filing Solution encourages and empowers people to gain control over their paperwork and prepares them and their families for any unexpected event.
###