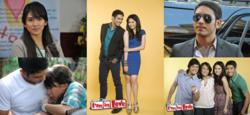 The early returns for 'Catch Me… I'm In Love' proves that Sarah and Gerald have the chemistry and maturity to go beyond love team expectations. This is a film any fan from any camp would enjoy. --Kerwin Du, ABS-CBN International's head of theatricals
Redwood City, CA (Vocus/PRWEB) March 28, 2011
Just one week after the first ever big screen team-up of Philippine Pop Princess Sarah Geronimo and Action Drama Prince Gerald Anderson, "Catch Me… I'm In Love," made a killing at the box-office on its first day in the Philippines, opening at P15 million. ABS-CBN International's Starry Starry Store is bringing the much awaited film to the U.S. this Spring. Starting April 1, the romantic comedy will hit select theaters in Los Angeles (Cerritos), San Diego, San Francisco, Las Vegas, Honolulu, New Jersey-Hoboken and New Jersey-Bergenfield.
Critics and moviegoers are raving over the on-screen chemistry between Sarah and Gerald which translated into long lines at theaters, solidifying Sarah's status as the country's Box Office Queen and propelling Gerald as a bankable leading man post-Kim Chiu (his former on- and off-screen love interest). The opening day take of "Catch Me… I'm In Love" surpassed the first day earnings of the first Sarah-John Lloyd Cruz mega-hit starrer, "A Very Special Love."
"Catch Me… I'm In Love" tells the story of an unlikely romance between the only son of the country's president and a young social worker. Roan (Sarah) is the only daughter among a brood of boys. She grew up in a tight and overprotective family who owns a flower shop. She is a passionate social worker and has a special place in her heart for children. Erick (Gerald) is a favorite personality of the media and the public, with everyone's attention on him not only because of his family status, but because of his charm and mystery. Despite everything, all the public really knows of him is that he is somewhat of a playboy and that he is vindictive towards anyone who crosses his line.
Roan and Erick first cross paths at a charity event. Roan is immediately attracted to this handsome and mysterious guy but it soon disappears when he mistakes her for a maid. Because of this, Roan develops a hatred for the president's son.
After a blunder at the NGO she was working at, however, Roan is forced to ask for Erick's help in providing the remaining funds needed to renovate the daycare center in their benefactor community. Erick, despite not wanting to work with Roan, decides to be more involved in her advocacy to please his father.
What happens is a funny, quirky, and interesting romance that blooms between the two of them. But as they get to know each other's world, they realize how contrasting their lives really are. Are they meant to be or is their affair just a fleeting case of opposites attract?
"I can't overemphasize how much people here in the U.S. have been looking forward to catching this first film project of Sarah and Gerald, especially since it almost parallels Sarah's entry into the picture after John Lloyd and Bea Alonzo decided to team up with other actors and actresses. In this case, it was after the end of the Gerald-Kim Chiu love team. So, there is intense curiosity from the fans of all these talents how Sarah and Gerald would fare together. The early returns for 'Catch Me… I'm In Love' proves that Sarah and Gerald have the chemistry and maturity to go beyond love team expectations. This is a film any fan from any camp would enjoy," said Kerwin Du, ABS-CBN International's head of theatricals.
"Catch Me… I'm In Love" will be shown in the following theaters and cities:
From April 1-7, 2011:
LOS ANGELES
Cerritos Stadium Cinema
12761 Towne Center Drive
Cerritos, CA 90701
SAN FRANCISCO
UA Stonestown Twin
501 Buckingham Way
San Francisco, CA 94132
SAN DIEGO
UA Horton Plaza
475 Horton Plaza
San Diego, CA 92101
LAS VEGAS
Regal Village Square Stadium
9400 W. Sahara Avenue
Las Vegas, NV 89058
HONOLULU
Regal Dole Cannery Stadium 18
735 Iwilei Road, #B
Honolulu, HI 96817
From April 1-14, 2011:
NEW JERSEY - HOBOKEN
Clearview Hoboken Cinemas
409 14th Street
Hoboken, NJ 07030
http://www.MovieTickets.com
From April 1-21, 2011:
NEW JERSEY - BERGENFIELD
Clearview Bergenfield Cinemas
58 South Washington Avenue
Bergenfield, NJ 07621
http://www.MovieTickets.com
For more information, please visit http://www.abs-cbnglobalmovies.com. Check out also the trailer at http://www.youtube.com/watch?v=E0c8fbDqKoU
About ABS-CBN International
ABS-CBN International was created over 15 years ago to be of service to all Filipinos. With the launch of The Filipino Channel (TFC), the company became the first and most successful Filipino broadcaster in the U.S. The company offers telecommunication, retail, theatricals, money remittance and cargo services, online audio and video streaming, IPTV, On Demand, along with philanthropic support for Filipinos and the communities they now call home. Based in Redwood City, CA, ABS-CBN International is a subsidiary of ABS-CBN Corporation, the Philippines' largest entertainment and broadcasting company, through ABS-CBN Corporation's wholly-owned subsidiary, ABS-CBN Global Hungary Kft. For more information, visit http://www.abs-cbnglobal.com.
###