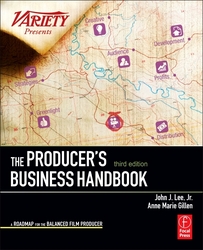 Now in its third edition from Focal Press and Variety, this producer's "bible" has been outfitted with new content -- and a robust website -- that every serious professional needs at hand.
Boston, MA (Vocus) November 15, 2010
The film industry is an odd mix of art and commerce and successful projects stint on neither. Too often, film schools have short-changed the business end leaving graduates to fend for themselves and get the education they need through trial and error. John Lee's The Producer's Business Handbook has been a lifeline for a generation of film industry veterans. Now in its third edition from Focal Press and Variety, this producer's "bible" has been outfitted with new content – and a robust website – that every serious professional needs at hand.
Lee, a twenty-five-year film industry veteran, provides a comprehensive description of the business of entertainment and advises readers how to successfully engage in all aspects of global production and exploitation. Readers learn, from both Lee and co-author and independent producer Anne Marie Gillen, how to create the essential, sustaining relationships that successful producers have with the key players in the motion picture industry -- domestic and foreign studios, agencies, attorneys, talent, completion guarantors, banks, and private investors.
Single-purpose production companies are part of the territory and have their own frameworks. Lee and Gillen provide a thorough orientation to operating production development and single-purpose production companies. They also describe the team roles needed to operate these companies, and how to attach and direct them. For those outside the US, the authors also include information on how to produce successful films without government funding.
This edition has been updated to include comprehensive information on the internal green-lighting process, government financing, and determining actual cost-of-money.

Production Financing Worksheet - a producer's must-have
Comprehensive new media, financing, and distribution updates of all chapters
Expanded global focus and references
Internet marketing & DIY distribution
Financing sources
Access to a website providing spreadsheets available nowhere else: Financing Worksheet, greenlighting worksheets, film comparables, activity and cash flow projections, and more
It includes new, simplified project evaluation tools, expediting funding and distribution.
Together with its companion website (http://booksite.focalpress.com/companion/leejr/producer3e) -- which contains valuable forms and spreadsheets, tutorials, and samples-this handbook presents both instruction and worksheet support to independent producers at all levels of experience.
About the Authors:
John Lee has been immersed in every business aspect of feature motion picture development. From producing to distribution, Lee has over twenty-five years of experience. Anne Marie Gillen, CEO of The Gillen Group, is an experienced independent producer, business consultant, and lecturer. Gillen is also prior Chief Operating Officer of Morgan Freeman's Revelation Entertainment, where she led the company in its strategic financing and distribution models, and CEO of Electric Shadow Productions, which finance and executive produced Fried Green Tomatoes.
Newly Released
The Producer's Business Handbook: The Roadmap for the Balanced Filmmaker, 3rd Edition, By John Lee and Anne Marie Gillen
Imprint: Focal Press / ISBN: 9780240814636; e-ISBN 9780240814643 / Trim: 7 ½ x 9 ¼ ; paperback; 272 pages / Price: EUR 28.95/USD 39.95/GBP 24.99 / Publication date: November 29th, 2010
Recently Released
Directing and Producing for Television: A Format Approach, 4th Edition
By Ivan Cury
Imprint: Focal Press / ISBN: 9780240812939 / e-ISBN: 9780240812946 / Trim: 8 ½ x 10 7/8; paperback; 312pages / Price: EUR 35.95/USD 49.95/GBP 30.99 / Publication date: October 28th, 2010
DSLR Cinema: Crafting the Film Look with Video, 5th Edition
By Kurt Lancaster
Imprint: Focal Press / ISBN: 9780240815510 / e-ISBN: 9780240815527 / Trim: 7½ x 9¼ ; paperback 320 pages / Price: EUR 28.95/USD 39.95/GBP 27.99 / Publication Date: November 8th , 2010
Coming Soon
Technique of Film and Video Editing: History, Theory, and Practice
By Ken Dancyger
Imprint: Focal Press / ISBN: 9780240813974 / e-ISBN: 9780240813967 / Trim: 7½ x 9¼; paperback; 486 pages / Price: EUR 32.95/USD 44.95/GBP 27.99 / Publication Date: December 1st, 2010
Filmmaking: Direct Your Movie from Script to Screen Using Proven Hollywood Techniques, By Jason Tomaric
Imprint: Focal Press / ISBN: 9780240817002 / e-ISBN: 9780240817019 / Trim: 7 ½ x 9 ¼ ; paperback; 532 pages / Price: EUR 28.95/USD 39.95/GBP 24.99 / Publication Date: January 6th, 2011
The Pocket Lawyer for Filmmakers: A Legal Toolkit for Independent Producers, 2nd Edition, By Thomas Crowell
Imprint: Focal Press / ISBN: 9780240813189 / e-ISBN: 9780240813196/ Trim: 7 ½ x 9 ¼ ; paperback; 472 pages / Price: EUR 23.95/USD 32.95/GBP 19.99 / Publication Date: February 15th, 2011
About Focal Press
Focal Press has been a leading publisher of Media Technology books for 70 years. We provide essential resources for professionals and students in many areas including: film and digital video production, photography, digital imaging, graphics, animation and new media, broadcast and media distribution technologies, music recording and production, mass communications, and theatre technology.
About Elsevier Science & Technology Books
Elsevier S&T Books provides its superior media technology, scientific and technological content through its books and online resources such as SciVerse ScienceDirect books and BrainNavigator, the award-winning product that improves the quality of neuroscience research. The S&T Books' family of imprints includes leaders in the media technology market with Focal Press and computing market with Morgan Kaufmann. Other imprints include CIM, Newnes, Syngress, William Andrew, CIMA, Pergamon, Estates Gazette Books, ASHRAE, Butterworth-Heinemann, Academic Press, Academic Cell, Anderson Press, Architectural Press, and Gulf Publishing (http://www.ElsevierDirect.com/).
About Elsevier
Elsevier is a world-leading publisher of scientific, technical and medical information products and services. Working in partnership with the global science and health communities, Elsevier's 7,000 employees in over 70 offices worldwide publish more than 2,000 journals and 1,900 new books per year, in addition to offering a suite of innovative electronic products, such as ScienceDirect, MD Consult, Scopus, bibliographic databases, and online reference works.
Elsevier (http://www.elsevier.com/) is a global business headquartered in Amsterdam, The Netherlands and has offices worldwide. Elsevier is part of Reed Elsevier Group plc (http://www.reedelsevier.com/), a world-leading publisher and information provider. Operating in the science and medical, legal, education and business-to-business sectors, Reed Elsevier provides high-quality and flexible information solutions to users, with increasing emphasis on the Internet as a means of delivery.
Please contact Dan O'Connell for a review copy, author contact information, or electronic material.
Praise for The Producer's Business Handbook, 3rd edition:
This is the single best work on financing independent films. Mr. Lee presents an overall structure clearly and efficiently. This is not a "war stories" book. The landscape of the film business is changing rapidly and this is one of the only producing books about real producing. Mr. Lee and Ms. Gillen address one of the most difficult aspects of producing - financing-in a direct way that lays out the tasks and challenges an independent producer needs to know; they do not sugar-coat the business - it's all business; they explain the intricacies of financing while making it understandable. There is more to financing a film than developing a business plan and this book shows why.
While there are a few, very few, books that are no-nonsense for producers, this is the only producing book that addresses financing with practical, in-depth information geared toward working producers that is efficiently written and presented. You can count on me to continue to use it.
-Don Smith, Associate Chair & Associate Professor, Film & Video Department, Columbia College
This is a timely book, detailing a proven method for success and providing relevant data for both investors and filmmakers, especially now that the Commodity Futures Trading Commission recently approved trading of film box office performance futures by Cantor Exchange and media derivatives by Trend Exchange.
-Jillian Alexander, MBA, CM&AA, CHRC,Managing Director, Corporate Development & Strategy, Conduit Consulting LLC, Former VP-Corporate Development, SONY Pictures Entertainment and member SONY US Ventures team
Dan O'Connell
Publicity Manager
Focal Press/Elsevier Science & Technology Books
p: 781-313-4726
c: 978-944-2879
###