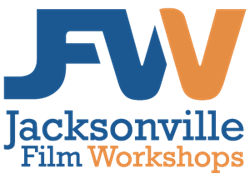 we want to share our knowledge with the community, inspire and motivate the next generation of filmmakers and media professionals in the North Florida region
Jacksonville, FL (PRWEB) April 23, 2014
Multiverse Media Group, a Jacksonville, FL-based web, marketing, and video production company, and talented local Jacksonville film producer Kim Murray, have teamed up to launch Jacksonville Film Workshops (http://www.JacksonvilleFilmWorkshops.com). Jacksonville Film Workshops features intensive and completely interactive workshops encompassing all aspects of working in the film industry, with small group classes taught by some of the top film industry professionals and experts in their respective fields.
The endeavor is poised to be a great film workshop and training resource for aspiring filmmakers and actors who can learn new skills and improve existing ones from professionals in the film and media industries. The overall goal, as explained by MVMG and Jacksonville Film Workshops representatives, is to offer creative workshops that cover as wide a range of topics as possible, with one MVMG representative quoted as saying, "If there is a job that is being done in the film industry, we're going to hold a workshop taught by the experts that know what they're talking about...and who are passionate about what they do."
All of the workshops are designed to examine "critical interactive elements" while offering hands-on training crucial to the learning experience. Further, the upcoming months will bring workshops on topics such as "Learn to be a Spokesperson," "Fundamentals of Lighting," "Sound Design," "How to Produce an Indie Film," "Basics of Film Production Law," and much more, with "Learn to be a Spokesperson" representing the debut workshop.
The "Learn to be a Spokesperson" workshop is set to cover the techniques needed in order to become a successful and sought-after spokesperson, including effective presentation skills, on-camera teleprompter experience and individual coaching and critiquing directly from successful spokespersons, acting coaches and hiring directors themselves.
This premiere workshop will be taught by skilled commercial and voice-over actor Grace De La Rosa; talented film, stage and television actress Karen Overstreet as well as James Castro and Micha McLain, directors and co-owners of Multiverse Media Group who will provide a behind the scenes perspective typically not found in acting workshops.
"We launched Jacksonville Film Workshops because we want to share our knowledge with the community, inspire and motivate the next generation of filmmakers and media professionals in the North Florida region," says McLain. "We are all working professionals with years of experience, focusing on bringing quality workshops and video content taught by us and other guest speakers. All of our film workshops are designed to teach what is needed to know in order to start a career in this business; truth be told, it is the same work we do day in and day out and which has made us what we are today."
In addition to hosting acting and film workshops in person, Jacksonville Film Workshops will also be filming all of it's creative workshops to make them available to purchased at any time on the website.
Whether it's acting tips, information on how to get into acting, presentation skills training, photo workshops, video production training or editing workshops, this endeavor between Multiverse Media Group and the "Jax" Film Workshops is being poised to change the face of the aspiring film professional arena.
About Jacksonville Film Workshops
Intensive film workshops encompassing all aspects of the film and media industry, taught by top professionals and experts in their respective fields, are the primary focus of the Jacksonville Film Workshops endeavor. Students can learn new skills and improve existing ones from professionals in the film and media industry, ranging from acting, post production, film production and more.
Parties interested in signing up for workshops or browsing previously recorded creative workshops including the "Learn to be a Spokesperson" – can visit http://www.jacksonvillefilmworkshops.com.