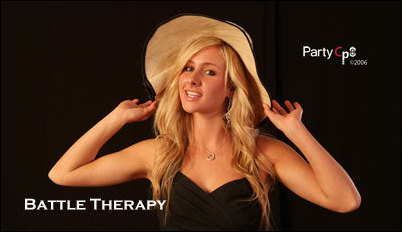 As a consequence of their involvement in PartyCp8's Feature Film project, some of the students have gained paid employment into other professional productions even before finishing the course - which is exactly what we want to do: assist to launch our students' professional film careers
Sydney, Australia (PRWEB) May 16, 2007
May 16th 2007 will be the premiere of the biggest student production ever to hit the big screen.
With 37 speaking roles, 20 non-speaking parts, 300 extras, multi-million-dollar sets and locations plus throw in a Ferrari, BMW and Mercedes Benz convertibles: Battle Therapy will leave aspiring filmmakers' mouths wide open.
Battle Therapy is the story of a young psychologist who is about to get married… well that's the plan anyway; a plan that his obsessive-compulsive patients are dead-set to spoil for the fear of loosing him.
Battle Therapy was written, directed, acted, edited and marketed entirely by student filmmakers as part of a unique mentoring program, the first of its kind, offered by PartyCp8 Feature Film School.
Adrian Bertino-Clarke, co-founder, course director and producer explains, "we are the only Feature Film School to offer its student body the amazing and exhilarating experience of working in a full feature film, with real top professional equipment, locations and facilities. Thus students work in a multi-million-dollar production with a huge cast and crew without spending a cent other than the very competitive tuition fees. They earn, for most, their very first feature film credit, get industry recognition, international exposure and even the opportunity to share in the producers' gross profit (combined 50%) through the commercialisation of the movie".
"Our focus is to ensure the students' movies are suitable for theatrical distribution. We market them through festival circuits and pitch them to distributors as with any other Hollywood production".
"As a consequence of their involvement in PartyCp8's Feature Film project, some of the students have gained paid employment into other professional productions even before finishing the course - which is exactly what we want to do: assist to launch our students' professional film careers".
Battle Therapy will screen at Fox Studios La Premiere cinema on May 16th 2007. For online-ticket sales contact PartyCp8.
For more information contact:
Adrian Bertino-Clarke on +1 310 9938385 or +61 2 92094312
Director, PartyCp8
Press Kit.
###