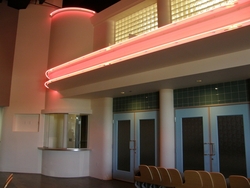 Tempe, Arizona (Vocus) October 5, 2007
Collins College is moving its film and video department into a new 25,000 sq. ft. facility, 14th Street Studio, located in Tempe, Arizona. 14th Street Studio is among the most advanced educational facilities in Arizona for film studies. Students will receive hands-on, professional training in film and video production and have access to equipment typically not available in higher education.
The grand opening of 14th Street Studio is Saturday, October 20 starting at 11:00 a.m. Grand opening ceremonies include the second annual F.U.S.E. 2 Film Festival sponsored by Collins and Independent Feature Project (IFP/PHX), and presentations by three Hollywood film producers. Presenters include:

Camille Cellucci -- Hollywood special effects producer for Titanic and other major films.
Jeff Dowd -- cofounder of Sundance and film producer of Gandhi, The Blair Witch Project, Blood Simple, Chariots of Fire, War Games, Hoosiers, and Desperately Seeking Susan,
Sean Covel -- producer of Napoleon Dynamite
The event is open to the public and there is no charge to attend. 14th Street Studio is located at 1425 W. 14th Street, Suite 101, Tempe, AZ 85281.
For more information on the grand opening, visit http://www.collinscollege.edu or call 480-966-3000 ext 252 or 800-876-7070 ext 252.
About 14th Street Studio:

2,000 sq. ft.-screening room theater that seats 150 people. The theater includes: JBL Pro Cinema Series, including surround sound and theater speakers; Custom built theater screen; Panasonic full-HD DLP system projector with 10,000 lumens and 1080 x 1920 pixel capability
Four classrooms (two are digitally based) and faculty offices.
Sound stages with dedicated control and sound booths, professional lighting grids, and sound-proofing throughout the facility for filming.
Digital lab for students.
Broadcast level film-to-digital video tape transfer facility - the only facility of its kind in Arizona.
Wireless and fiber optics throughout the building.
Selected interior spaces that are used as stage sets, including a vintage art deco facade theater front and a contemporary, industrial-style end-floor mezzanine and bar set that doubles as the student lounge.
In addition to the new facility, Collins has made a substantial investment in professional hardware and software. Collins is the only school in Arizona that has a Telecine digital video that transfers film to tape, and is the only school in the state to own a Sony Cine Alta High-Definition camera. The school owns smaller high-definition cameras, including Panasonic, Sony and Aries.
Collins provides advanced students training in Flame®. Discreet® Flame® is a professional motion graphics system for visual effects creation and is used by most major film studios. Students also have access to AVID XpressPRO® and Avid® and Apple Final Cut HD IDS HD.
Collins College offers a Bachelor of Arts in Film & Video Production and an Associate of Arts in Digital Video Production.
About Collins College
Collins College, a school of design and technology, provides students with a career-focused education. Approximately 2,000 students from across the nation attend Collins College. Collins offers Bachelor of Arts degrees in game design, visual arts with a major in game art, graphic design, interior design, film & video production, and a Bachelor of Science in information technology. Associate degrees are offered in information technology, digital video production and graphic design. For more information, visit http://www.collinscollege.edu
Collins College Main Campus 1140 South Priest Drive, Tempe, AZ 85281 Tel: (480) 966-3000 Fax: (480) 829-0183
Collins College Branch Campus 9630 North 25th Avenue, Phoenix, AZ 85021 Tel: (480) 966-3000 Fax: (480) 829-0183
Program availability differs by locations. Financial aid is available for those who qualify. Career Services assistance.
Contacts:
Ann Papagalos/Christine Korecki
602-279-2933/602-702-0524 or ann@papagalos.com
# # #