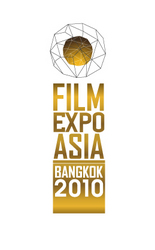 Living Faith of The Beloved King.
Bangkok, Thailand (PRWEB) February 22, 2010
This spring, students across the world will have an opportunity to compete for 99 team spots to travel and be the Grand Prize winner of $100,000 by Film Expo Asia's short film contest in Thailand.
Creative minds will have 30 days to enjoy and prove themselves in Southeast Asia's golden land, Thailand. They will be exposed to exotic blends of Thai herbs and spices, traveling under the clear blue sky and living together with local Thai's to reveal the Charisma of Thai's heart.
The short film contest is open to a team of 2 students enrolled in any educational institution with one thing in common, that they are connected to Asia. Whether living in Asia, an Asian ethnicity, studying an Asian subject or have an Asian team member, as long as the team is formed of students and at least one member is connected to Asia, they are qualified.
Shot in HD format, the short film will be on the subject of His Majesty's Royal Development Projects in Thailand. Teams will be assigned to one of 17 provinces in Thailand where the Royal Development Projects are in operation. The short film must be between 5 - 7 minutes and shot in either English or Thai with respective subtitles.
Each team will receive a generous paid room and local transportation, a maximum of USD 1800 airfare for teams coming from abroad and USD 500 allowance during their stay in Thailand.
Applicants must first register through http://www.withoutabox, a world wide center for filmmaker and film festivals. Then apply online at filmexpoasia with their best short film no longer than 5 minutes, posted on Youtube along with a film treatment of 1 - 2 pages on the contest theme, "Living Faith of The Beloved King."
Prize & Deadlines:
Grand Prize of USD 100,000 and 8 honorable mentions will be awarded.
Pre Qualification Entry will end April 30, 2010 6 PM Pacific Daylight Time.
Qualified teams will be announced on May 9th 2010.
Contest will take place during June 9th - July 9th 2010.
Official competition rules and regulations are listed at the website http://www.filmexpoasia.com
Contact Details
Film Expo Asia Bangkok Administration Office
48/21 Soi Rung Rueng, Suttisan Road
Huay Kwang District, Bangkok Thailand 10320
Phone 66(2) 693 1000
email info@filmexpoasia.com
###